In our journeys across the South visiting lakes and lake real estate agents in various states, one of the highlights of our travel is the opportunity to try local restaurants.
These can be upscale establishments or tiny, "hole-in-the-wall" joints. We find these through online reviews and by asking the local real estate agents where they love to eat.
Just to clarify, we do not limit ourselves to restaurants located at the lake. These are actually in nearby towns, places you can easily visit while staying at a lake home.
While there are many we enjoyed in our travel, in no particular order (because, how can we possible pick!), here are nine of our new favorite restaurants we found near lakes this year!
Our 9 New Favorite Restaurants Near Southern Lakes
Aubri Lane's, Milledgeville, GA (near Lake Sinclair) – In a very old downtown bank, the old safe is now a wine cellar. The bartenders have a great selection of interesting bourbons and wines. The seafood was our favorite, but we've never had a dish we didn't love!
Goin' Coastal, Canton, GA (near Lake Arrowhead) – Despite being inland, this could very well be the best seafood restaurant we've visited. Ever. And the staff is engaging, and a bar with great wines and an eclectic bourbon selection. What else can we say except, "When can we go back?!"
Yellow Fin, Gainesvlle, GA (near Lake Sidney Lanier) – Just off the old town square, this restaurant is both cool and delicious. Fun staff, great selection of hard-to-find gin and tequila, and regular specials that are always a home-run hit!
Kickers Takeout, Greenwood, SC (near Lake Greenwood) – A tiny place that you'd hardly notice driving by, they have incredible, ample dishes with a very cool international flavor. I understand they have even catered for the Food Network.  This is our have-to-go-back place in Greenwood!
J. Peters, Lavonia, GA and Seneca, SC (near Lake Hartwell and Lake Keowee, respectively) – Doris believes the J. Peters salad is the top salad in the universe. If we are near Hartwell or Keowee, we'll be at J. Peters.
Off the Square, Albemarle, NC (near Lake Tillery) – We were in between meals when we stopped for a meeting and had pie while we waited. If dinner is even half as good as that pie, it gets an A+. Just amazing. And while we were there mid-afternoon, the service was friendly and obliging!
Epic Chophouse, Mooresville, NC (near Lake Norman) – This old building has three centuries of elevators (no, we didn't get to ride any of them), fantastic steak, engaging staff, and upscale but relaxed experience.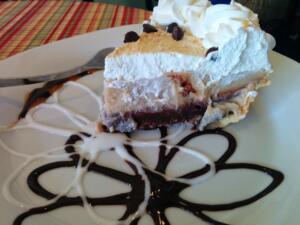 211 Main Street Restaurant and Bakery, Lavonia, GA (near Lake Hartwell) – The sandwiches we had for lunch were fantastic and the tables all had fresh flowers. As we ate, Doris said, "EVERYONE here is getting dessert." And they were. And I mean everyone. And although we rarely get desert, we got a slice of heaven they call pie. Run by a friendly Mennonite family, their pie alone is worthy of a road trip!
Harry's Grill and Tavern, Charlotte, NC (near Lake Wylie) – This cool place has a huge, very social bar in addition to a lower dinning room. It is in a recently developed community but had a neighborhood feel. Very helpful and fun staff, great dishes, including several we ogled from diners near us that we plan to try next time.
I know this has not covered all the great places we dined, but you cannot go wrong with any of these great restaurants. Our travels will continue next year as Lake Homes Realty continues to grow. We can't wait to find new places to experience local culinary hospitality!
P.S. If you have restaurants suggestions in towns near, or on, any lakes, please share them with us!
G
---
Glenn S. Phillips is the CEO of Lake Homes Realty