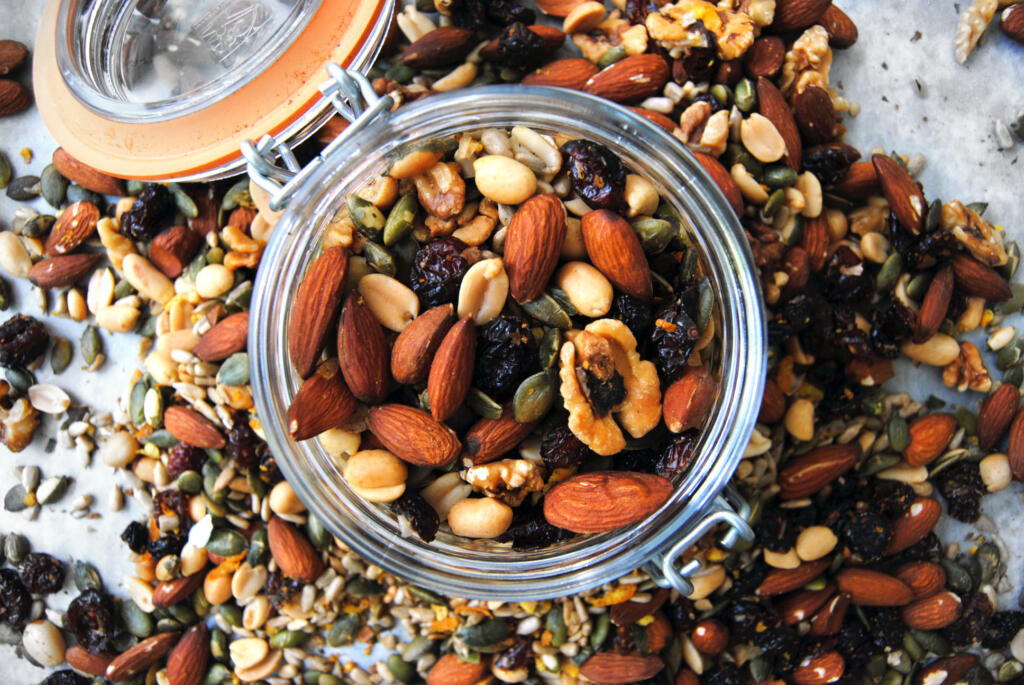 Whether you're braving an arduous hiking trail or enjoying a lazy afternoon on the boat dock, trail mix is an unbeatable snack. It's lightweight yet dense, easily portable, and doesn't require refrigeration — making it a perfect choice for on-the-go nature enthusiasts. Besides these benefits, one of the best parts is that you can customize your batch. Perhaps you love Archer Farms' Monster Mix or the classic Planters' brand, but you wish it didn't include raisins. Making your own trail mix is guaranteed to be free of pesky ingredients you're not into. Plus, it's unbelievably simple to make! In honor of National Trail Mix Day, check out these five trail mix recipes to try for your next outdoor adventure – whatever it may be!
Maple Glazed Trail Mix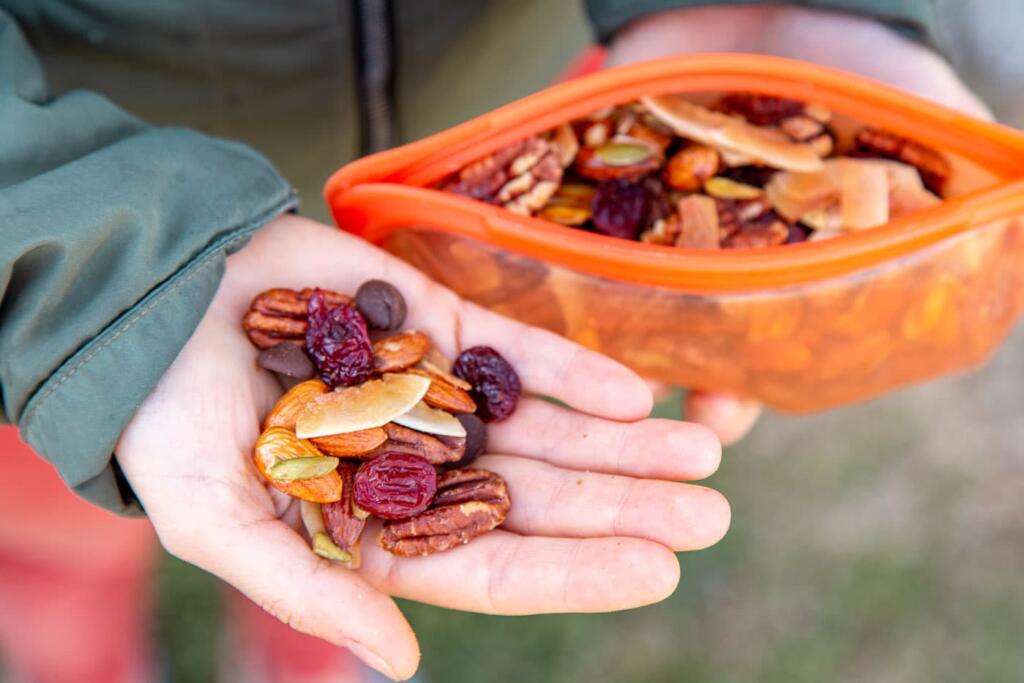 Many trail mix recipes are either decadent or health-focused, but this one from Freshoffthegrid.com is the best of both worlds. The combination of sweet coconut flakes and hearty almonds makes for a satisfying Fall-themed snack. Whether you're hitting the trail or hanging at your lake house, one handful won't be enough.
Ingredients:
½ cup of raw almonds

½ cup raw pecan halves

⅓ cup unsweetened coconut chips

¼ cup pepitas

3 tablespoons maple syrup

⅛ teaspoon sea salt

¼ cup chocolate chips

¼ cup dried cherries
Directions: Preheat oven to 300 degrees. While it's heating, mix almonds, pecans, coconut chips, pepitas, and maple syrup into a medium bowl. Stir to coat the nuts with syrup evenly. Spread mixture onto a baking sheet and bake for 20 minutes. Once cooled, transfer to a bowl with chocolate chips and cherries.
Homemade Healthy Trail Mix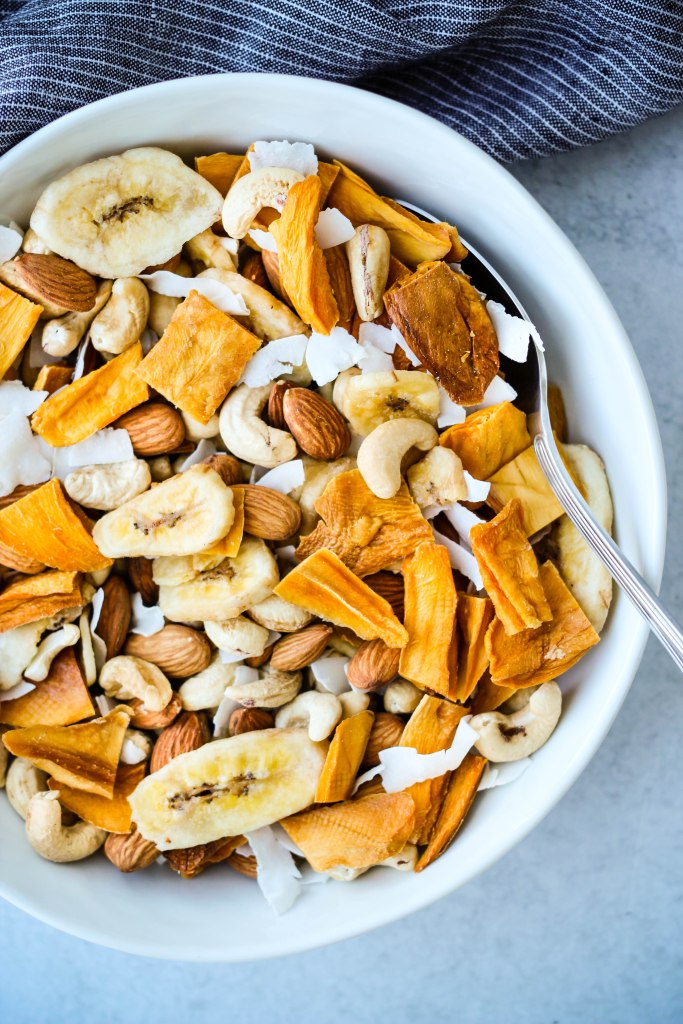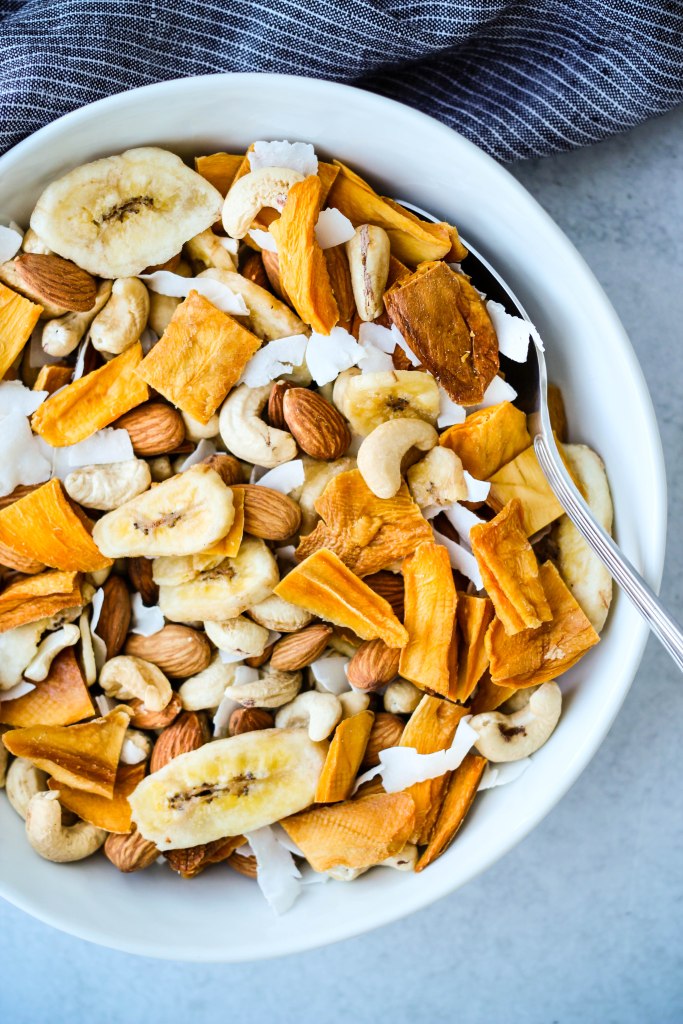 Are you looking for a nutrient-dense snack? Blogger and dietician, Carrie Walder, features a health-focused trail mix recipe on her blog, Walder Wellness. Her recipe is simple — dried fruits and raw nuts. However, this particular combination complete with mango slices has a tropical flair perfect for late summertime.
Ingredients:
1 cup raw cashews

½ cup raw almonds

½ cup unsweetened coconut chips

2 cups unsweetened dried mangos, chopped

½ cup banana chips
Directions: Mix all ingredients into a large glass container. Scoop into plastic bags and bring on your next outdoor adventure!
Classic Chex Monster Mix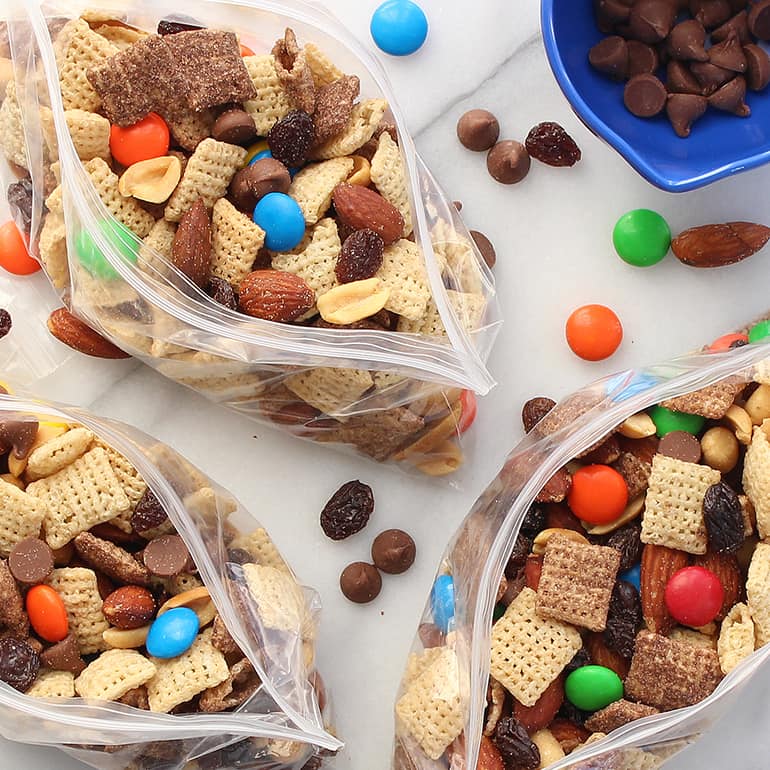 If Chex Mix and trail mix had a child, this recipe would be it. Straight from Chex's website, this tasty treat combines the light, crunchy texture of Chex squares with salty, filling nuts. To top it off, M&M pieces and chocolate chips add a sweetness that benefits all trail mix recipes. Kids and adults alike will compete for handfuls of this perfect lake snack.
Ingredients:
2 cups of Chocolate Chex cereal

2 cups of Rice Chex cereal

1 cup raisins

1 cup candy-coated chocolate candies

1 cup cocktail peanuts

1 cup roasted salted almonds

½ cup milk chocolate chips
Directions: Combine all ingredients into a large bowl. Mix well and store in a covered container.
Pumpkin Spice Roasted Chickpea Trail Mix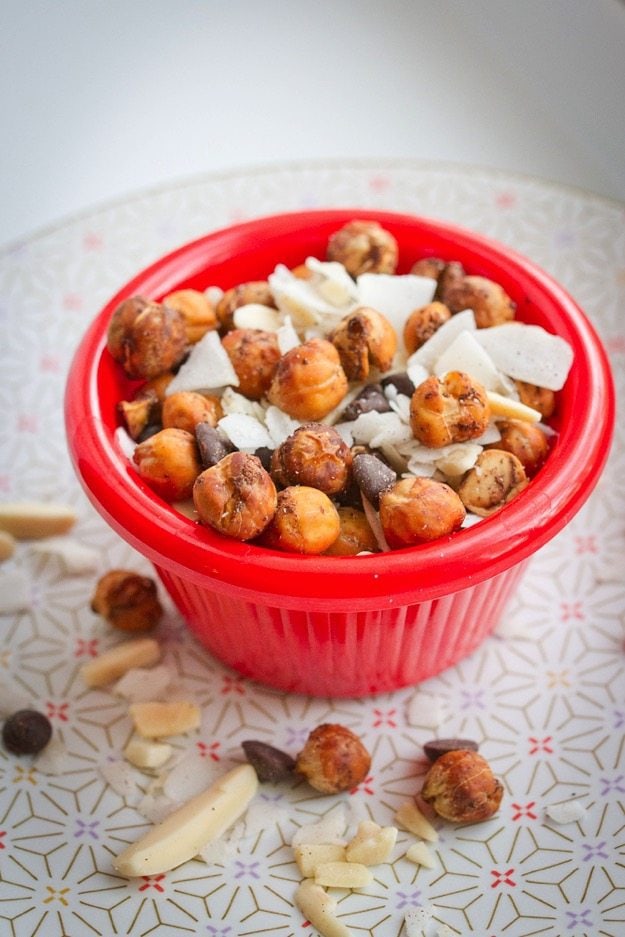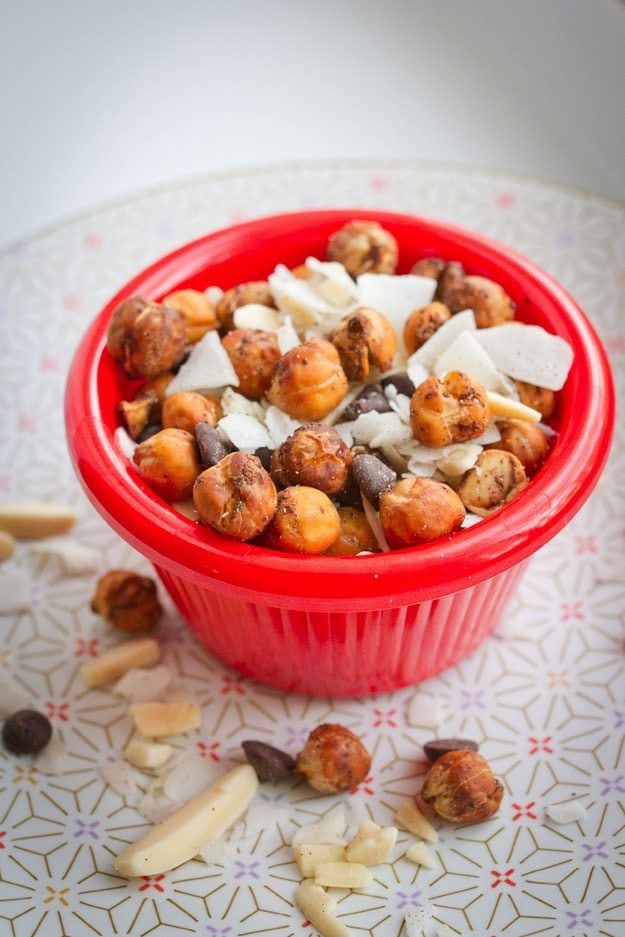 Calling all chickpea enthusiasts! Essentially the pumpkin spiced latte of trail mix recipes, this creation from the blog Eating Bird Food is a perfect combo of sweet and salty that goes well with a crisp Autumn afternoon at your lake house.
Ingredients:
1 can chickpeas, rinsed and drained

1 teaspoon pumpkin pie spice

5-6 drops of stevia (or 1-2 teaspoons maple syrup)

½ cup unsweetened large flaked coconut flakes

½ cup almond slices

¼ cup enjoy life mini chocolate chips
Directions: The bulk of this recipe involves roasting the chickpeas. Preheat the oven to 400 degrees. After rinsing the chickpeas, pat them dry with paper towels and place them in a bowl. Add the pumpkin pie spice and stevia and stir to combine ingredients. Bake chickpeas on a baking sheet for 30 minutes, stirring every 10 minutes. Once they're crispy, set aside to cool. Place the remaining ingredients in a bowl and add chickpeas!
Decadent Trail Mix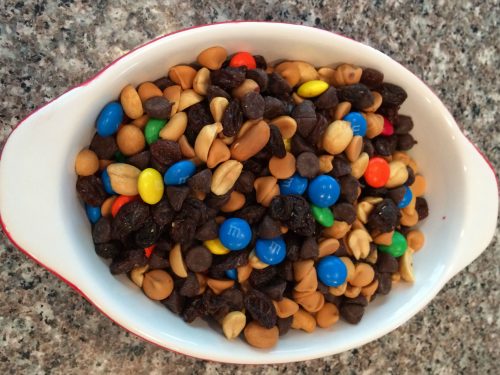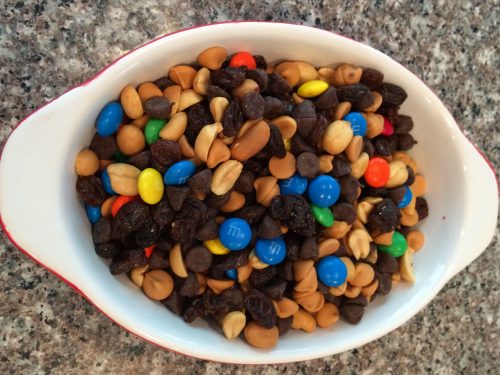 We're saving the sweetest for last. If you're a chocolate fan looking for a dessert-like snack, this Decadent Trail Mix from The Cole Mines blog is perfect. The combination of salty and sweet is addictive, and the butterscotch and chocolate pairing makes for a delectable, unique treat. Around the holidays, opt for red and green M&Ms for a festive flare. 
Ingredients: 
1 cup salted peanuts 

1 cup raisins 

1 cup semi-sweet chocolate chips 

1 cup butterscotch chips (or peanut butter)

1 cup M&Ms 
Directions: Mix all the ingredients in a Tupperware container or Ziplock bag. Enjoy and share with guests! 
During a long day in the great outdoors, homemade trail mix recipes are a fun, delicious treat. Whether you opt for a healthy or chocolatey snack today, we at Lake Homes wish you a Happy National Trail Mix Day!