Having a pontoon boat will open up a whole new world of fun for you and your family. There are many different activities that you can do on a pontoon boat, and if you purchase amazing add-ons you can add even more fun to the experience.
Click on any of the links below for more information!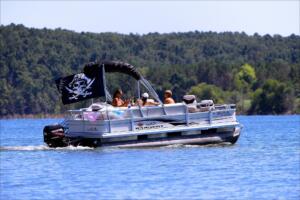 Even though you can already fish, cruise, camp and ski on your boat, you can also add a fire pit.
These fire pits, fueled by natural propane, offer yet another way to relax an evening on the lake, particularly during cooler weather.
Lighting that can be put under the deck offers illumination for nighttime barbeques and parties. Though not something you will use every time you're on the water, these lights create the perfect ambiance for a night ride.
The lights mounted to the underside of the boat will make the water glow with amazingly vibrant colors.
Your pontoon lights can even be used to liven up the mood the next time you have a party on your dock!
There are numerous options for boat mounted barbeque grills. Most options offer a mounting unit with an accessory pole that fits into the same hole where you would put a drink table.
These on-board grills offer a way to cook for your family and friends without having to leave the water. All you have to do is throw some hotdogs and hamburgers on the grill while everyone is swimming!
Half the fun of going out on the pontoon boat is getting to swim. Why not make a splash out there by purchasing a pontoon diving board?
Boards come in various sizes, which can be securely fasted to the boat and used like a regular diving board.
Before taking the first plunge, make sure you check for debris in the water and to ensure that the water is deep enough for safe diving.
Whether you want a permanent fixture or one that you can put up and take down as you please, there is a pontoon slide out there for you.
Slides can be made of metal or strong plastic and attached to the boat itself for unlimited fun. But if some occasions don't call for such adventure, say a leisurely cruise along the shore, purchase an inflatable attachment.
These can be blown up and used, then when it is time to pack it up for the day, the slide is deflated and can be packed away to offer more space.