A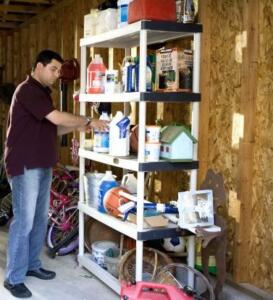 s it starts to get colder, homeowners are looking for ways to clean up their homes, so they can have more space for storing their summer things.
They also start thinking about getting rid of old things and simply just making things look nicer, and the largest task in most homes are the garages.
It's truly the only part of the house that most families let go. It's easy to throw everything that doesn't belong in the house, in the garage, but it gets packed pretty quickly.
It can be hard to find motivation to tackle the task of getting things back in order, but once you start, there are some things you can do to keep your garage organized in the future.
Magnetic Tool Holder
This neat magnetic tool bar is quite similar to the knife holders you'll find in some kitchens. Except they are made to fit drill bits, nails, wrenches and all the tools you can imagine.
And the best part, you don't have to go digging into the unknown to find what you need, it'll be hanging right in front of you.
Use a Paper Towel Holder for Trash Bags
You can use an old paper towel holder from the kitchen in the garage to hold your trash bags.
This will keep the garage area clean and controlled. Plus, you can rip away at the bags like you do paper towels and get the area cleaned up that much faster.
It's actually quite useful because little things like garbage bags can get lost fairly easily in the garage.
Can Wall Storage
You can use a can to hold smaller tools, knickknacks and paint brushes.
All you do is drill a hole in the can and add a hook to the edge of the can so it can hang in the garage.
The can should be easy to install and can be any size you want, from a typical soup can to a much larger coffee container.
Save your Jars
That's right, your jars can be used to hold different types of screws and bolts.
You can organize your tool shelf by using individual jars for washers, screws, bolts or whatever your heart desires.
Depending on what you are storing, you can use sizes ranging from baby food jars up to pickle jars, then simply label the contents of the jar on the side or lid.
Industrial Shelving Units
If you simply need more shelf space, one easy-to-install and price-effective remedy is industrial shelving units.
These units are designed to handle heavy objects, are usually customizable, provide plenty of extra shelf space and are found at almost any local hardware store.
You can generally find them in steel or heavy duty plastic, just make sure you take note of how much weight it can bear, and don't overload it.
These are just a few of the ways you can begin to de-clutter you garage and make it a more usable space.
It can be as easy as saving your pickle jars and putting them to good use. Everyday household items can go a long way, especially, if you get creative when it comes to organization!