What is a barbeque without grilled hamburgers? Listed here are five amazing burger recipes that you can use to kick up the meal for the family and friends. From spicy to classic, these recipes will offer great tasting food that your guests are sure to enjoy.
To make it fun, you can always make it a burger sampler and competition. Reduce the recipes and make each type of burger into sliders, have everyone try each type, then find out which burger is the favorite!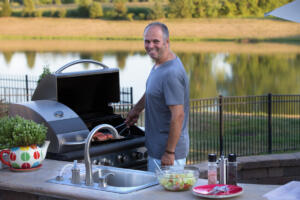 Smoky, spicy and tangy, this great recipe offers a great-tasting burger that has a unique taste. The grilled bell peppers and onions add even more of a charred flavor to any burger.
Ingredients:
3 Pounds of Roma Tomatoes – Cored, Halved
½ Cup of Malt Vinegar
4 tsp. of Salt
2 tsp. of Spicy Pepper Sauce
1 tsp. of Allspice
1 Bay Leaf
1 Cinnamon Stick
1 Medium Sized Onion – Cut into ½ inch Rounds, Separate Rings
1 Yellow Bell Pepper – Cored, Seeded, Cut to ½ Inch Strips
2 Tbsp. of Oil
1 ½ pounds of Ground Beef
Pepper
4 Buns
Directions:
For the tomato ketchup, heat up the grill pan to a medium-high heat. Grill the tomatoes with the skin side down until it has dark grill lines. It will take about five minutes.
Flip them over and cook for 10 minutes. Chop them to pieces.
Transfer the tomatoes to a sauté pan. Stir in the sugar, vinegar, salt, allspice, bay leaf, spicy pepper sauce, and cinnamon stick.
Sauté it until it is almost dry.
For the burgers, sprinkle the onions and the peppers with ½ teaspoon of salt and toss it with 1 tablespoon of oil.
Grill the onions and the peppers until they are charred and softened. Flip only once. It will take about six minutes.
Cook the burgers and then top it with the ketchup and the onions.
These taste amazing and will leave people wanting more. This recipe is very easy to do and you will have an easy recipe that packs a great flavor.
Ingredients:
6 Slices of Pancetta
1 Pound of Ground Beef Sirloin
Salt
Pepper
2 Tbsp. of Oil
6 Slices of Gruyere
6 Mini Buns – Toasted
3 Tbsp. of Stone Ground Mustard
6 Cornichons
Directions:
Preheat your grill to 400 degree Fahrenheit. Line a baking sheet with some parchment paper, and then spread the pancetta slices on it. Bake until crisp. It will take about 10 minutes.
Divide the beef into six portions and then into patties. Sprinkle it with salt and pepper.
Oil the grill, and cook the patties for five to seven minutes on each side until it is done.
Add the Gruyere slices on the patties. Cover them with the lid so that the cheese melts. Remove them from the grill.
Assemble your burgers on the buns with the crisp pancetta.
If you like jalapenos, then you are going to love this burger. From onions and jalapenos to brown sugar and adobo seasoning, this burger offers a punch of flavor.
Ingredients:
12 Ounces of Ground Beef
8 Ounces of Chorizo
1 Tbsp. of Adobo Seasoning
3 Large Yellow Onions – 1 Sliced Thin, 1 Grated
Salt
Pepper
½ Cup of Minced Jalapeno
½ Cup of Brown Sugar
¾ Cup of Mayonnaise
2 Red Bell Peppers – Roasted
6 Potato Rolls – Split
6 Slices of Cheese
Directions:
Mix the chorizo, beef, adobo, and the grated onion in a large mixing bowl. Form it into six patties. Refrigerate them for 30 minutes.
Heat the oil in a large pan on medium-high heat. Add in the sliced onions and the salt and pepper. Add in the jalapeno peppers and the brown sugar. Sauté until the onions are completely caramelized. Make sure they are soft.
Puree the mayo and the red peppers in a food processor or a blender until creamy. Season the mixture with salt and pepper.
Heat the grill on high. Grill your patties until they are cooked to desired degree.
Spread about one tablespoon of red pepper sauce on both sides of the bread. Lay the burger on the half and then top it with the caramelized onions.
4. The Classic Burger
This is a recipe for those who want a simple, classic, cheeseburger. There is not much seasoning in the recipe so the focal point of the flavor is on the meat, so make sure you buy high quality 80/20 or 70/30 ground beef.
Ingredients:
1 ½ Pounds of Ground Beef
Salt
Pepper
1 ½ Tbsp. of Oil
4 Slices of Cheese
4 Buns – Split, Toasted
Burger toppings of your choice (lettuce, tomato, pickles, mayonnaise, mustard)
Directions:
Divide your meat in 4 equal portions. Form patties from it. Push the middle down to form an indention. Season both of the sides of the burger with some salt and pepper.
Heat the grill on high. Brush your burgers with the oil.
Grill your burgers until it is brown.
Add the cheese to the tops of the burgers on the last minute of them cooking to melt the cheese.
5. Cheese Stuffed Grill Burgers
Because you can never go wrong by adding more cheese to any recipe! This is another recipe in which not a lot of seasoning is needed, but on the inside you will find melty, cheesy, goodness!
Ingredients:
2 Pounds of Ground Beef
1 tsp. of Salt
½ tsp. of Pepper
8 Ounces of Cheese – Your Choice
Directions:
Mix the beef with salt and pepper in a large mixing bowl and form it into 8 balls. Press the cube of cheese into the center of the balls.
Cover the cheese with the meat.
Form the balls into hamburger patties.
Grill the burgers until they are done.
Grilling out and cooking burgers at the lake is an All-American tradition enjoyed by many every summer. Keep in mind that burgers are great blank canvases, so don't be afraid to have fun and experiment with your own recipes!
Head out to the lake, and light up the grill with your friends and family this weekend! And while you're at it, give some of these great summer cocktail recipes a try.