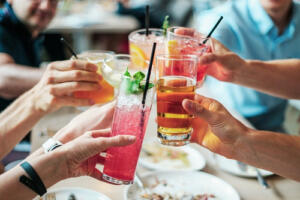 Imagine this: the a sun is setting, and the breeze is blowing. The kids are in the water having a blast, and you're sitting lakeside, sipping a tasty homemade cocktail and soaking it all in. Does it get any better than that?
Enjoying life is what lake lovers do best, and these five unique cocktail recipes are sure to add some flair to any sunny day.
Pink Lemonade Vodka Slush
Pink lemonade is a warm-weather classic. Just add some vodka, and you've got yourself a party.
Ingredients:
1 gallon-size ice cream pail
12 oz frozen pink lemonade concentrate (thawed)
2 cups vodka
2-liter bottle of citrus soda (Sprite, Squirt, etc.)
 Directions:
First, combine thawed pink lemonade concentrate, 2 cups of vodka and a 2-liter bottle of citrus soda in the ice cream pail.
Stir and freeze.
After it's frozen, remove from the freezer an hour or two before you plan to serve it. Once it begins to thaw and melt, you can scrape the slush into a glass.
Now just top your drink with some extra soda, tonic or carbonated water, and sip away!
Courtesy of culinaryhill.com
Blueberry Mint Margarita
The sun's beaming now, which means the fruits and berries should be in abundance in the produce section. Why not throw a few in your cocktail to make the ultimate sweet treat?
Ingredients:
½ cup lime juice
1 cup fresh blueberries
2 Tbsps agave nectar
1 Tbsp fresh mint, roughly chopped
3 oz silver tequila
1 oz triple sec
Sugar (for the rim)
2 fresh mint sprigs
Splash of seltzer (optional)
Directions:
To begin, put lime juice, blueberries, agave and mint into a blender. Blend until smooth.
Then pour the blueberry mixture through a sieve (a wire or plastic frame used for straining solids from liquids) into a large glass. Press down on the solids to extract juice and then discard.
Next, run a slice of lime around the rim of two glasses. Then place sugar on a plate, and dip the moistened rims in the sugar to coat.
Fill those two glasses with ice.
In a large cocktail shaker, add your blueberry mixture, tequila and triple sec. Shake well.
After that, divide the drink evenly between the two glasses. Top with a splash of seltzer and garnish with mint.
Courtesy of virtuallyhomemade.com
Smashed Cherry Mule
Who doesn't love a Moscow Mule? Since you'll already be grabbing blueberries at the farmer's market for that margarita, go ahead and snag some cherries while you're at it! This bold drink is refreshing, colorful and full of flavor.
Materials:
2 oz vodka
4 fresh cherries
Ginger beer
Lime
Directions:
First, cut 4 cherries in half and remove the pits.
Then, in the bottom of your cup, mash the four cherries with the juice from half a lime.
Next, add vodka, ice and then top with ginger beer.
Garnish the drink with a lime slice and a fresh cherry.
P.S.—you can eat the cherries at the bottom of the cup when you're done!
Courtesy of abeautifulmess.com
Grapefruit Blood Orange Cocktail
It's the color of sunset and tastes like heaven. Whipping up this delight will only take five minutes of your time, and it's worth every second.
Materials:
1.5 oz vodka
3 oz freshly squeezed grapefruit juice
3 oz freshly squeezed blood orange juice
0.5 oz freshly squeezed lime juice
Directions:
Just pour all the ingredients into an ice-filled cocktail shaker and shake it well.
Then pour the mixture into an ice-filled glass. Garnish with a blood orange wedge.
Courtesy of wearenotmartha.com
Raspberry Lemon Drop Martinis
Last but not least, the ever-popular lemon drop. They simply scream summertime, and this fruity, colorful spin not only makes this cocktail yummy, but pretty.
Materials:
¼ cup fresh raspberries (plus extra for garnish)
3-4 oz vodka
4 Tbsps fresh lemon juice (plus lemon slices for garnish)
¼ cup lemon lime soda
4 Tbsps sugar
Directions:
First,  muddle your raspberries with sugar to create a raspberry puree. Press the mix through a sieve to remove seeds and release as much juice as possible.
After that, mix the raspberry puree, vodka, soda, lemon juice and ice in a cocktail shaker. Shake well.
Garnish with lemon slice and raspberries.
Courtesy of realhousemoms.com
This lake season, stock your fridge with berries and tequila and give these tasty cocktail recipes a shot! They're a delicious way to enjoy a summer day down by the water. Cheers!