Selling your home is never easy, but selling your lake home comes with its own set of unique challenges and pitfalls. Check out LakeHomes.com's five tips for selling your lake home to ensure you're prepared for the journey.
Clean up the Lakefront
Just as you would pressure wash your driveway and edge your lawn for a traditional home sale, it's important to make sure your waterfront is in tip-top shape when selling your lake home.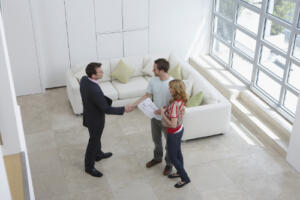 Lake weeds can quickly overrun your shoreline, so be sure to free it from suffocating vegetation.
You should also cut overgrown grass along the edge of your retaining wall and incorporate shoreline-stabilizing landscaping.
Popular lake landscaping features blue flag iris, lemongrass and cardinal flowers.
Keep in mind when touching up your home's waterfront appeal that you avoid introducing invasive species to your lake
Such species include water hyacinth and purple loosestrife. Though they may be pretty to look at, theses plants are dangerous to the your lake and its ecosystem.
Other ways to improve your shoreline appeal include installing solar lights along the path from your home to the waterline and painting your metal bulk head for a restored look.
Repair Your Docks and Decks
You know that plank that's been missing from your dock since 2004? If you're selling your lake home, it's time to replace it.
Of course your home's interior is important, but most likely prospects will be more concerned with the external parts of your property.
This means they will be paying special attention to the condition of your boat dock, deck and patio.
Ensure your docks and decks are buyer-ready by repainting metal surfaces with weather resistant finishes and removing any screws or nails that are not flush.
Also, replace any splintered pieces of wood and pay careful mind to weathered hand rails, which will not escape notice.
For a full boat dock inspection check list, click  here.
Lifestyle Staging
One of the most important things to remember when selling your lake home is that potential buyers need to be able to envision their own families occupying the space.
Real estate pros recommend staging both the inside and outside of the home to help make this easier.
Indoors:
On the inside, start by removing family pictures from the walls and replacing a few of them with mirrors, so potential buyers can literally SEE themselves in the home.
Also, get rid of clutter by removing knicknacks like key hangers and collectibles. You should remove any magazines littering the coffee table and swap out your colorful throw pillows and blankets for those in neutral colors.
Make sure the lake is within sight as much as possible, even if that means removing thick curtains and window screens that may obscure the view or darken the room.
To be sure your lake home is inviting and homey, subtle lake lifestyle-inspired accents such as a welcome mat that reads "life is better at the lake," or hanging a beach towel in the changing room may do the trick.
A few candles and fishing pole-emblazoned coasters on the coffee table can also bring the home to life.
Outdoors:
Put away all inflatables, pool noodles and other water toys, and make sure there are no knotted fishing lines or rogue hooks laying out.
Take some age off your outdoor furniture with a pressure wash, and upgrade any weather-worn cushions with new, brightly colored ones.
Tiki torches, big umbrellas and other lounge accessories like Adirondack chairs are also appropriate staging props.
If you have a canoe or kayak, experts recommend placing one in your yard, and hanging a few life jackets on your deck will also help get buyers in the right mindset.
Last, outdoor kitchens and grills should be cleaned of ash, soot and food remains before showing your home.
Hire a Lake-Focused Real Estate Agent
Above all else, always hire a lake real estate professional to guide you through the lake home-selling process.
Unlike traditional real estate agents, lake-focused agents live, work and play in their local markets, which provides them with intimate knowledge about the area's real estate and the nuances of the lake itself.
These lake experts can also provide sellers with national exposure for their listings via sites like LakeHomes.com, which welcomes two million visitors a year looking specifically for a home like yours.
Lake agents' local expertise on current market trends and access to lake traffic information about where buyers are most frequently coming from can help make selling your lake home a smooth, effortless process, too.
Do you have tips for selling your lake home? Tell us in the comments section below. And for more on make the sale, be sure to read "3 Reasons Your Home Won't Sell."