Bugs: nature's biggest nuisances. While some – like bees, praying mantises and ladybugs – are helpful to the environment, others can be a real buzz kill during lake season.
These four plants will not only spruce up your curb appeal but also help keep pests from ruining your fun in the sun. So, check out this list of the four best plants to prevent bugs at your home, and get growing!
Lemongrass
Lemongrass, often used for medicinal purposes in teas and as a cooking spice, is a surprisingly effective mosquito repellent.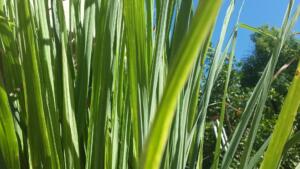 These plants — characterized by tubular stocks, a bulbous base and blade-like leaves — contain citronella oil.
This essential oil works by masking smells insects (like mosquitoes) find attractive.
In people, these attractive aromas include carbon dioxide, which we produce by exhaling, and some chemicals found in human sweat.
Lemongrass is a warm-weather plant, which requires full sunlight for six to eight hours a day to thrive.
If planting lemongrass in a garden, be sure to spread plants several feet apart to allow optimal growth.
If you're planting lemongrass in an area where temperatures drop to below 40 degrees Fahrenheit, grow the herb in a planter rather than in the ground. That way, you can take the plants inside during the winter to avoid freezing.
Also water your lemongrass plants regularly, as they are prone to drying out when left unattended, and keep them in nutrient-rich soil that drains well.
Chrysanthemums
Members of the daisy family, chrysanthemums come in a variety of colors making them perfect for brightening your yard and, even better, preventing bugs from encroaching on your good time.
These flowering plants are characterized by the shape of their petals. Some chrysanthemums feature thick, rounded flowers while others feature tubular petals that stick out like spikes.
Chrysanthemums contain pyrethrum, commonly found in natural pesticides. This chemical is effective at repelling, and even killing, such insects as ants, fleas, ticks and roaches.
To grow your own, be sure to plant your flowers where they will receive between 5 and 6 hours of sunlight daily.
You should also avoid planting your chrysanthemums in low-lying areas that may collect water, or in damp window boxes, because they are susceptible to mildewing.
Rosemary
Like lemongrass, rosemary is another cooking herb that does well to keep mosquitoes at bay. Also similar to lemongrass, rosemary puts off a strong aromatic smell that masks those that attract such insects.
Experts recommend throwing a few sprigs of rosemary on the grill while cooking out to not only enhance the flavor of your meal, but also to drive flies and other bugs away with the smoke.
Rosemary is a perennial, shrub-like plant that is best grown when potted. This herb can survive in a wide range of temperatures and sunlight and can grow up to four feet tall. Rosemary also produces small, indigo-colored flowers.
You can harvest up to a third of a rosemary stem at a time. Once harvested, you can dry your rosemary stems to use later in cooking, teas and in bug repelling.
Petunias
Vibrant colored petunias are effective at deterring a number of insects including aphids and different types of beetles.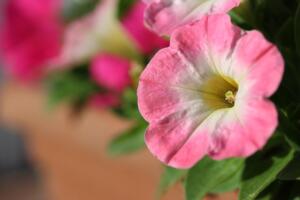 There are two types of this flower: grandiflora and multiflora.
When planting petunias at the lake, consider planting the latter type to prevent bugs at your home.
Distinguished by numerous small buds, multiflora petunias are not as susceptible to wet conditions as grandiflora.
It's best to start growing your petunias from transplants; however, should you grow them straight from the seed, pot and grow your flowers inside until they can be transplanted.
Petunias are perennials, like rosemary, which means you and your lake home guests can enjoy them year-round.
They don't require much watering and can grow in partial shade, though the plant will produce fewer flowers than if it were grown in the sun.
The most popular varieties of this flower include Petunia Plus Reds, also known as the hummingbird petunia, and Suncatcher Pink Lemonade petunias, which feature a yellowy center with a pink rim.