Sometimes it's nice to show a little gratitude.
Presenting clients with a gift after closing on a property is a way for agents to show their appreciation of the client's patronage as well as congratulate them on their sale or purchase.
Closing gifts help ensure clients walk away feeling valued by their agent. They're also a great way for agents to make themselves memorable for future real estate opportunities.
The best closing gifts are personal, thoughtful and creative.
We've put together a list of three unique, lake-inspired closing gifts that are sure to leave a lasting impression with any client. Check them out below!
Lake Silhouettes
Founded in 2013, Custom Crafted Silhouettes takes every-day maps of America's favorite lakes and transforms them into beautiful pieces of art.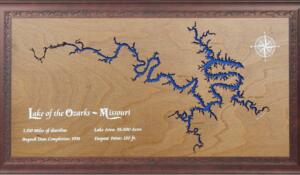 Pieces are individually laser-etched on beautiful birch wood and embellished with hand-painted details.
These one-of-a-kind lake silhouettes are then placed in custom wood frames and enclosed in glass to ensure their preservation for years to come.
Silhouettes also come with an adhesive crystal, with which agents can mark the location of a client's home or favorite fishing hole.
Custom Crafted Silhouettes offers lake maps in 31 states as well as custom, laser-etched silhouette cutting boards and wine glasses.
These works of art are perfect for recent lake home buyers.
Agents can even go the extra mile by presenting the silhouettes with the buyers' home already marked or with a bottle of wine to accompany a set of personalized wine glasses.
For more information about Custom Crafted Silhouettes' collections and pricing, visit their website here.
Grilling Accessories
Grilling and a lake home go hand-in-hand, so why not present your clients with custom grilling accessories?
Real Estate Seasoning Gifts offers personalized meat seasonings that feature your picture, name, contact information and company logo.
Seasonings and rubs come in variety of options including ancho rib rub, steak and veggie seasonings and Cajun rub! Agents can purchase these individually or in sets of four.
What better way to make a lasting impression than by putting your name and face on this staple of lake living? This closing gift is not only creative and thoughtful, but practical as it's something your clients will actually use.
To accompany the custom grill seasonings, consider presenting your clients with a personalized set of BBQ utensils.
Any number of online shopping sites, including Etsy and Amazon, offer a wide selection of options for choosing the custom set that is just right for your clients.
Present clients with a utensil set enclosed in a branded wooden case that features their lake home address or family name, or pair of laser-engraved tongs and spatula.
Key Hook Wall Hangers
At the lake house, it's rare to have just one set of keys to keep up with. Often, lake home owners have to juggle boat keys, jet ski keys, keys to the storage shed, car keys, etc.
One great gift to present clients with is a key organizer labeled for each type of key. Cute sayings like "The Lake. The Life. The Dream." and "Life is Better at the Lake" are nice personalization options for a little something extra.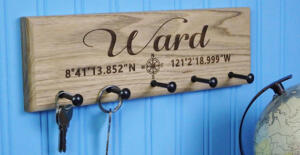 For something more elegant, a hand-made wall hanger engraved with the family's name and the property's GPS coordinates would be a heartwarming closing gift to give clients.
The ones featured here are individually made from butternut hardwood and finished with natural beeswax.
Customization options include custom wrapping, personalized short phrases and four types of pegs to choose from such as chrome and brass.
Other great types of key hook wall hangers include wire baskets for holding mail, cork boards and chalk boards on which to write greetings and reminders.
No matter what you choose, your clients are sure to enjoy these one-of-a-kind, lake-inspired closing gifts.