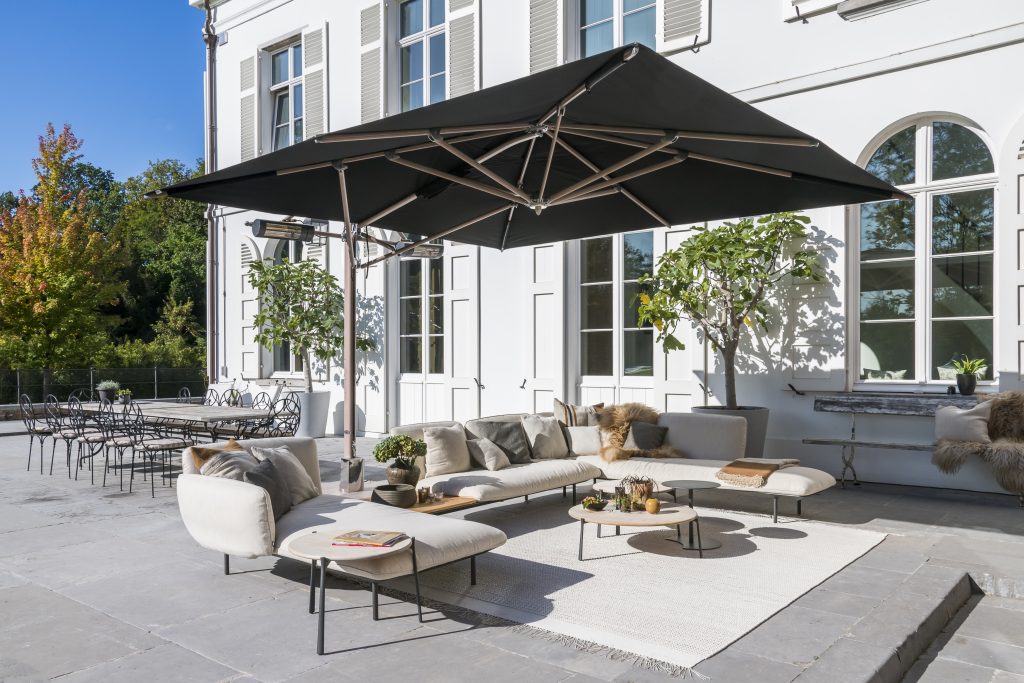 Written by Michelle Rohrer-Lauer, ASID
Produced by Laura Bianchi and Jeanne Delathouder Hudson
It's that blissful time of year—when lake lovers start heading outside after a long winter to embrace the great outdoors and the splendor of lake life. So why not make the most of your glorious outdoor spaces so you can enjoy them to the fullest? As a designer and a lake homeowner, I know I will! From early spring to late fall, I want to be able to go outside, breathe in the fresh Wisconsin lake air, and let Mother Nature do what she does best—make me feel relaxed and revived.
To prepare for this spring's outdoor season, I have gathered some of my favorite new trends and furnishings to share. I looked for smart technology, outstanding design, comfort, and durability. As the founder of Michelle's Interiors in the Chicago area and a member of the Sustainable Furnishings Council, I am always looking for eco-friendly products that are both sensible and beautiful. These attributes are doubly important for lake homes, where we are surrounded by the beauty of nature and want to preserve it.
Outdoor Work Spaces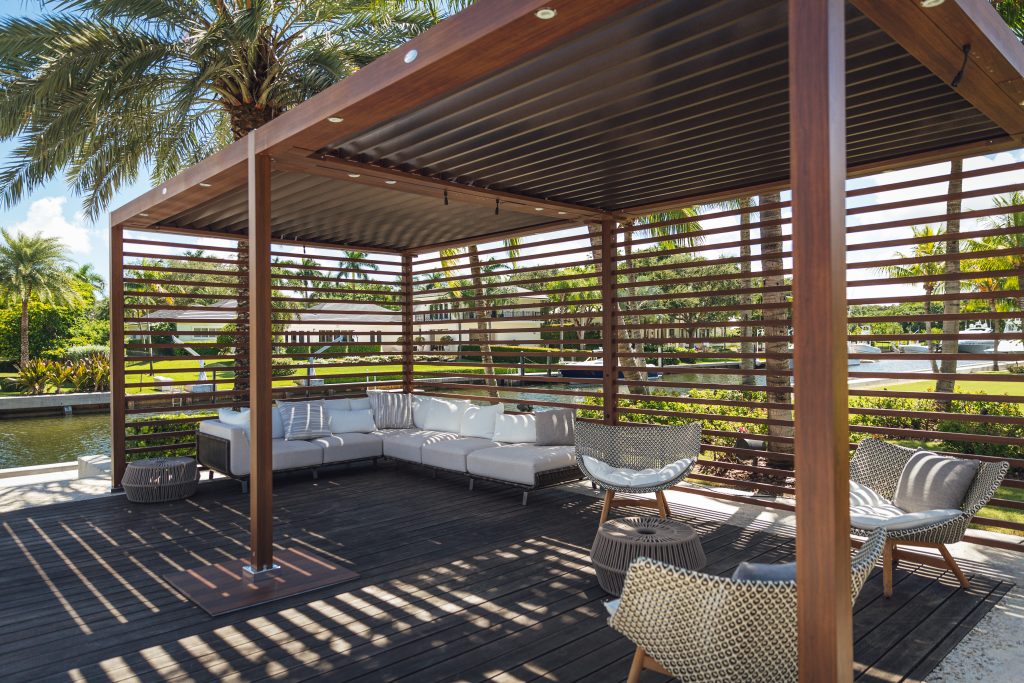 More than ever, people are working at home. Working outside has become a logical extension of that trend, whether at your primary residence or your lake home. This automated, louvered cabana from Tuuci allows you to work outside while still having some protection from wind, sun, and rain. Just add furniture and an optional outlet/USB port for your electronics, and you're open for business. Lights and heating elements are optional but oh-so-wonderful and can dramatically extend your daily and seasonal use. I just installed one of these for a client—it's incredibly low-maintenance and weatherproof, so it never needs to be taken down.
Dedicated to eco-friendly design solutions, I also love that this cabana is fabricated of durable aluminum and stainless steel, which are both 100% recyclable. Seventy-five percent of all aluminum that has ever been made is still in use because the metal can be recycled indefinitely. Used aluminum beverage cans are the most recycled metal product in the world. Recycling aluminum requires only 5% of the energy used to make primary aluminum for the first time.
Lounge Love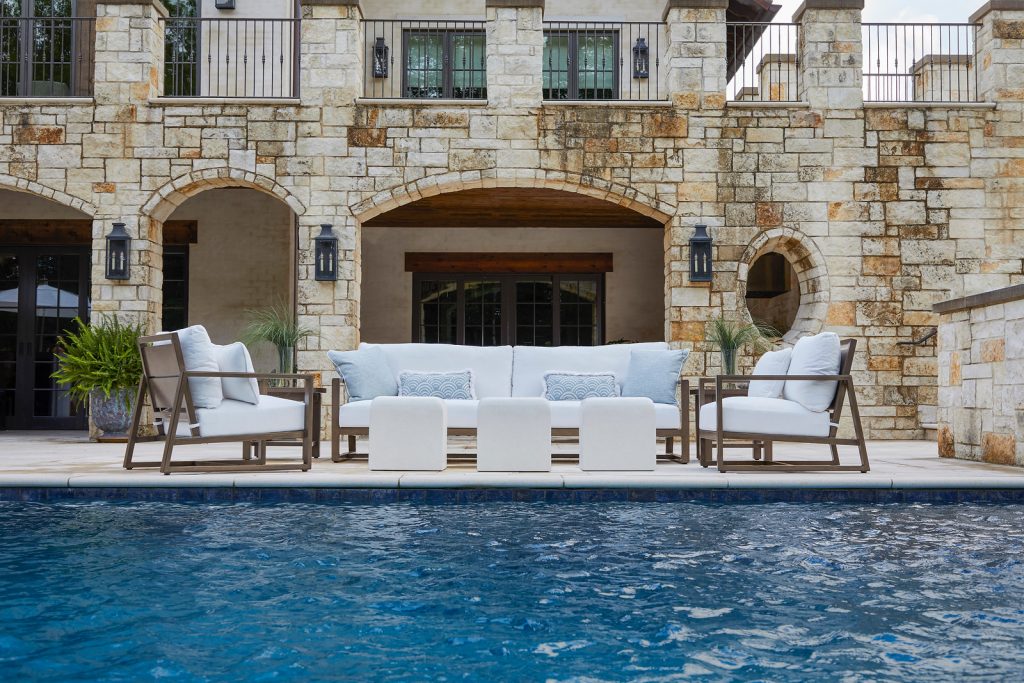 Low-slung sofas and chairs with deep cushions, like this Avondale grouping from Summer Classics, are part of a loungey look that's on-trend for 2022. I'm crazy about this style because sitting lower to the ground makes me feel more a part of the environment, and the sofa cushions give me plenty of room to sit with my legs in the lotus position. The simple, clean lines prove once again that there is elegance in understatement, and as a bonus, the aluminum frames are also recyclable. So, sink in, relax, and enjoy.
Sleek & Sculpted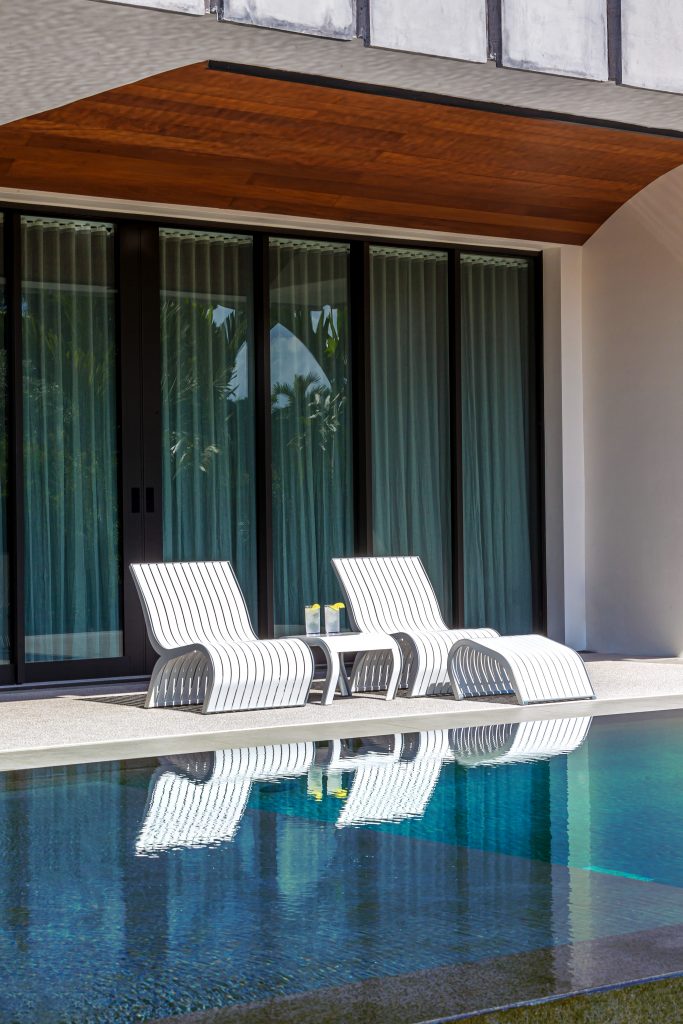 Furniture is taking its design cues from sculpture, especially in these intriguing Tides lounge chairs and ottoman from Pavilion. The fluid curves remind me of waves rolling across the lake on a windy day. I love the way the sunlight passes through the narrow slats to create an intriguing contrast of light and texture and how the pieces cast amazing shadows in the water. I could spend hours in one of these chairs, relaxing and enjoying the outdoors.
All About Al Fresco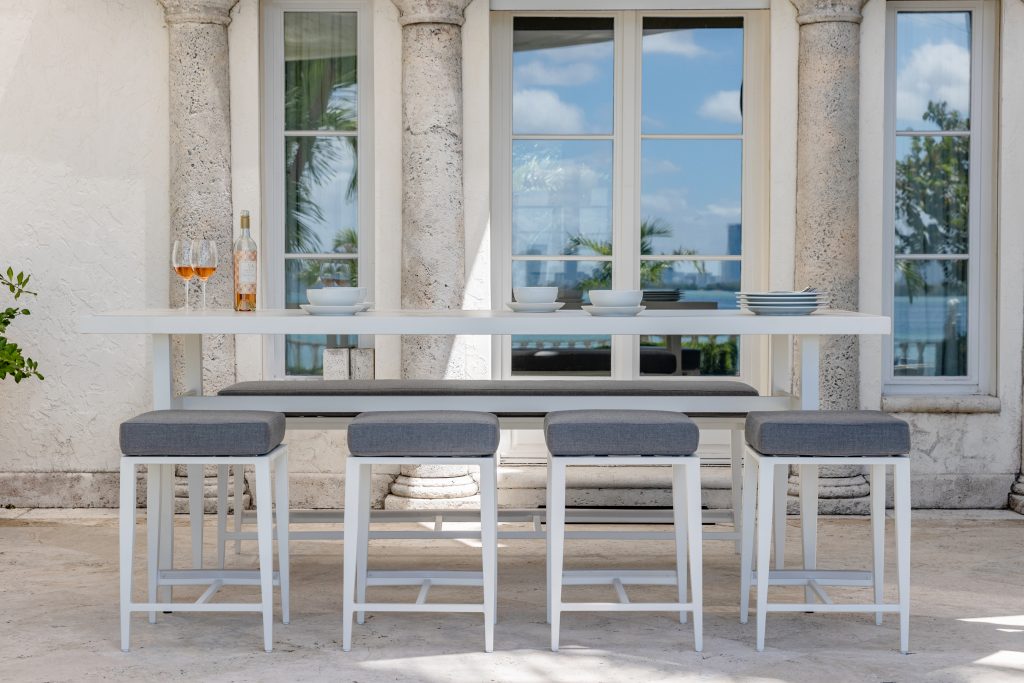 As we continue our battle against the COVID pandemic, al fresco dining on the lake will become hotter than ever in 2022. I can just imagine my family and friends gathered around this Brickell Communal counter-height dining table from Pavilion on beautiful days, laughing and planning an afternoon of fun on the lake, or sharing tales of our adventures in the evenings.
These cushioned counter stools and bench, also from Pavilion's Brickell collection, really caught my eye. The crisp square shape and stiletto-style tapered legs of the stools have an awesome blend of streamlined urban elegance and lake home energy. The long bench allows for more seating, especially for a gang of kids with skinny backsides! The table is available in two lengths—75 inches or 112 inches for larger gatherings. Of course, I like that the materials are super durable, too, built to withstand the great outdoors.
Stretch the Outdoor Season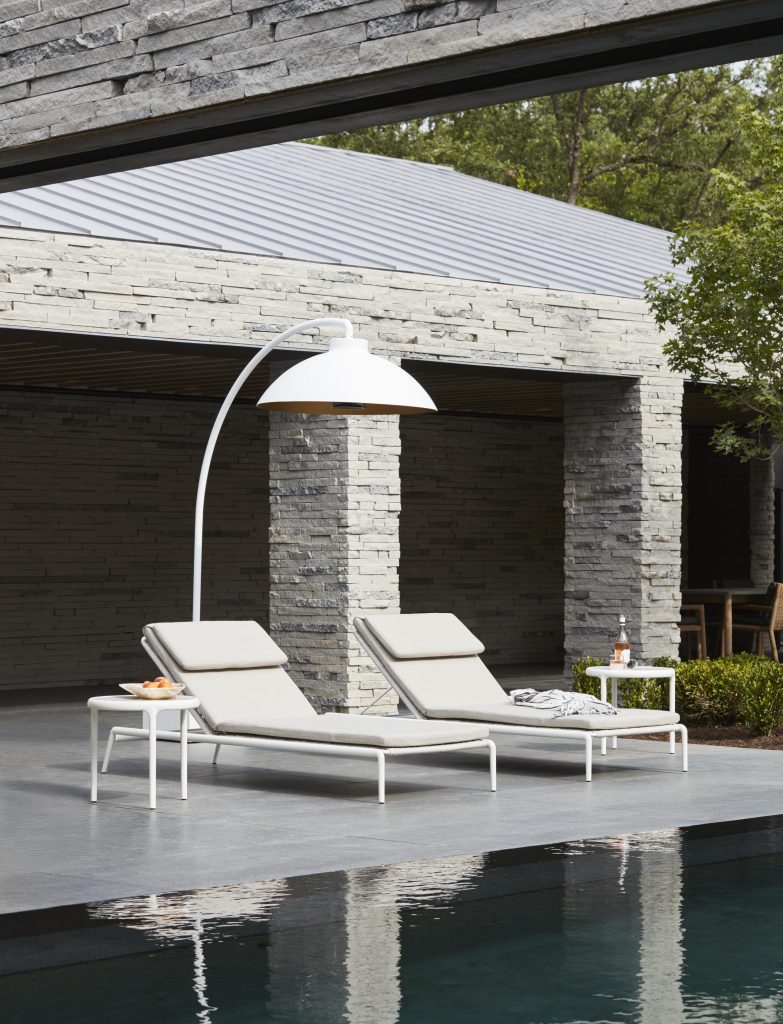 Stretching the outdoor season as long as possible has virtually become an Olympic sport for most lake homeowners, right? My husband and I enjoy sitting on the back porch of our lake house from early spring until the end of October when we watch the autumn leaves turn color. These clever Heatsail Lamps from Sutherland Furniture can help you make the most of outdoor living. Nearly all heat sources are just that—only heat, not light. But with these lamps, you get both—plus, they are stylish. That's a win-win! I like the way this heat lamp arches over the seating area. It distributes the heat more evenly than those floor heaters that restaurants put in the corners of their patios.
Get Your Green On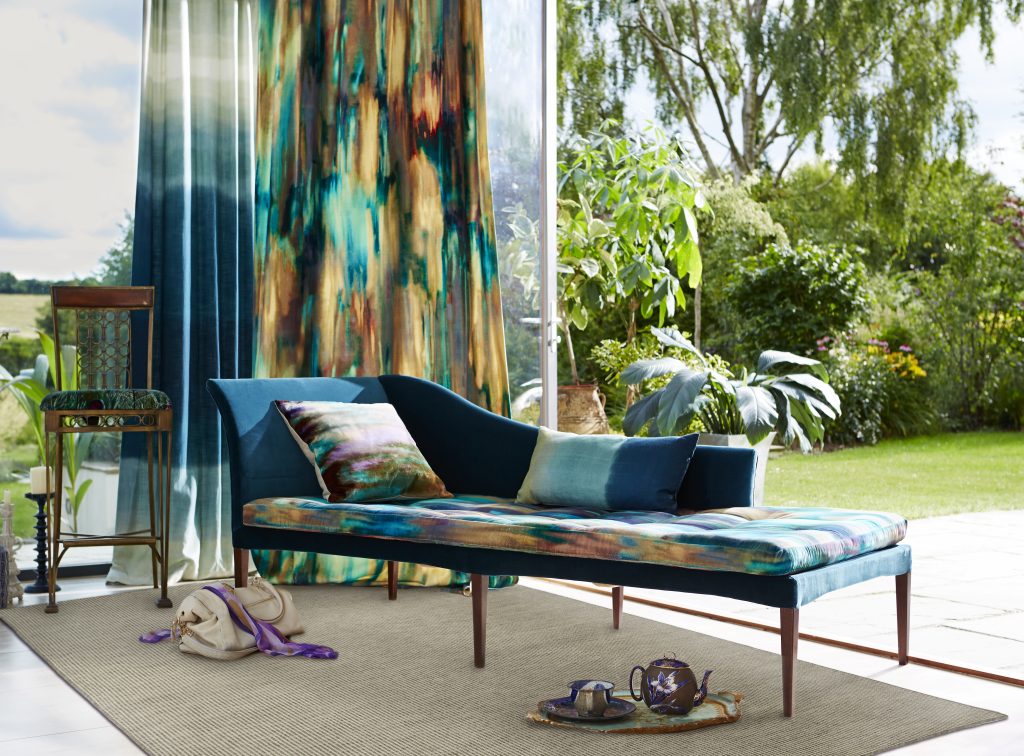 What I call "getting your green on" is one of the hottest trends in luxury home furnishings. As a passionate promoter of eco-friendly furnishings, I was thrilled to learn that 97% of consumers in a 2021 survey from the Sustainable Furnishings Council said they were very interested in buying environmentally safe products, assuming that style and cost are about the same. That's huge—and so encouraging for our planet. I am constantly introducing high-quality, eco-friendly goods to my clients, including outdoor furnishings whenever possible.
Can you tell that this rug from The Delos Company's Wanderlust Collection is woven from yarns made with fibers produced from recycled water bottles? According to Forbes and Scientific American, it is estimated that one square yard of carpet keeps 50 two-liter water bottles out of landfills. That's good for the planet, and these rugs are durable, stain-resistant, and retain their color.
Constructed with a textural flatweave, this rug is easy to maintain, soft underfoot, and reversible—a great bonus. From a design standpoint, outdoor rugs have the same attributes as indoor rugs—they help define a space while contributing texture and color.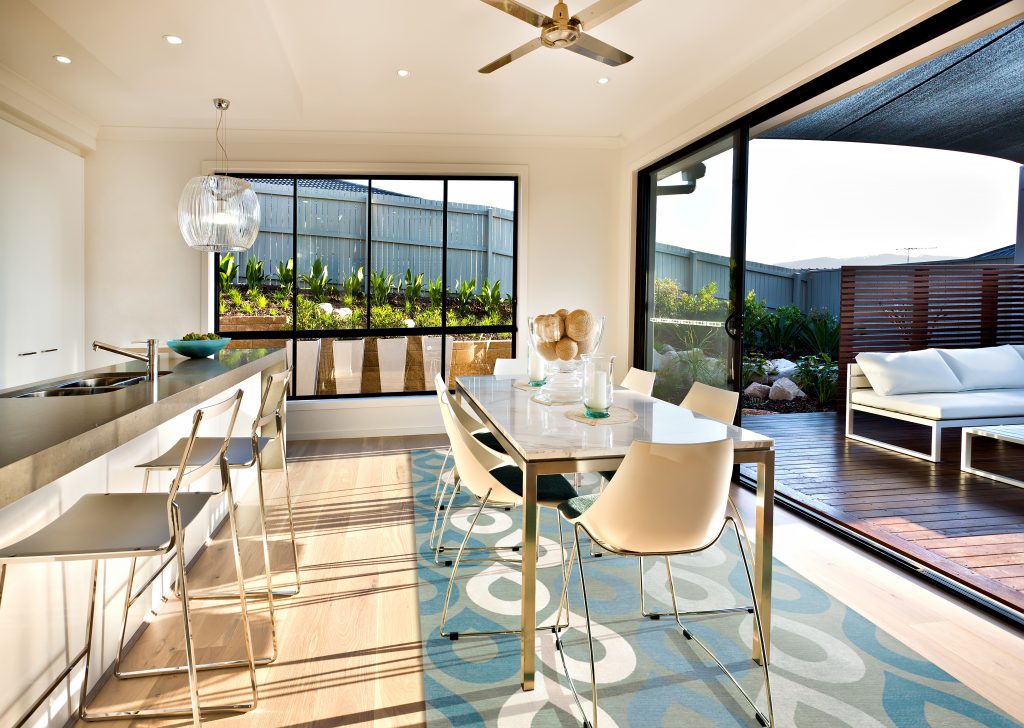 Have you heard about semi-outdoor rugs made of discarded fishing nets, spent carpets, and other nylon waste? I'm super excited about them—and they are manufactured from The Delos Company's proprietary ECONYL®, which is 100% regenerated and regenerable nylon. This Water II custom rug is durable, cleanable, and beautiful for covered porches where they won't get soaked in the rain. They are stain, bleach, and wear-resistant, which is especially important for lake homes.
According to the folks at Delos, for every 10,000 tons of ECONYL®, the company saves 70,000 barrels of crude oil, avoids 57,000 tons of carbon emissions, and saves over 1,000 gigajoules of primary energy demand. Now that's something to contemplate as you take a dip in the lake.
So, start dreaming of your own beautiful outdoor spaces and make the most of lake living this year. My team and I would love to help you plan your next project!