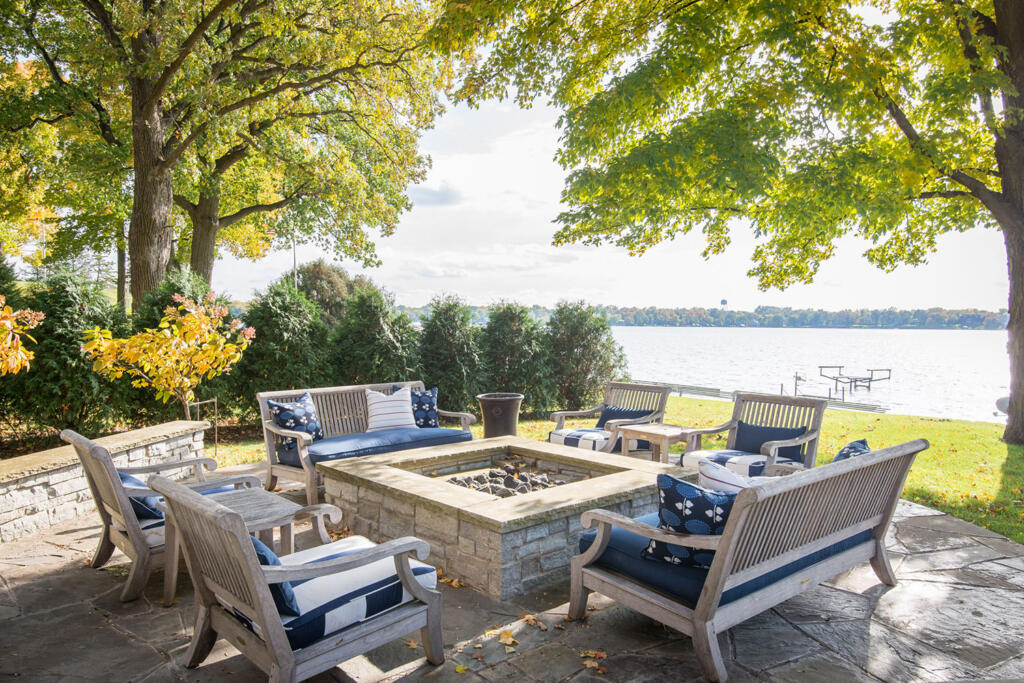 With Spring quickly approaching, revamping your lake house decor might be on your mind. Of course, warmer weather means hosting family and friends on your outdoor patio, and as such, you may be wondering if your current outdoor furniture is sufficient or if it's time for an upgrade. If this is you, we've got you covered with the outdoor furniture design trends of 2020.
Leaders in the outdoor furniture industry such as Brown Jordan, Sunbrella, and Summer Classics have all shared their cutting-edge insights about these trends on their respective blogs. We've synthesized the top trends from these companies' reports and are here to share with you the latest color, material, product, and design trends for the year. We hope these inspire you to get started on redecorating your outdoor area at your lake home!
Color Trend – Say Goodbye to Saturation
While bright, bold colors were in style a few years ago, the theme that's been emerging over the past few years is color-infused neutrals. Rather than aiming to wow your guests with bright neon pillows, you'll instead find that fabric trends are headed in a more muted direction. These faded shades create a softer look that complements the outdoor furniture's material, rather than overshadowing it.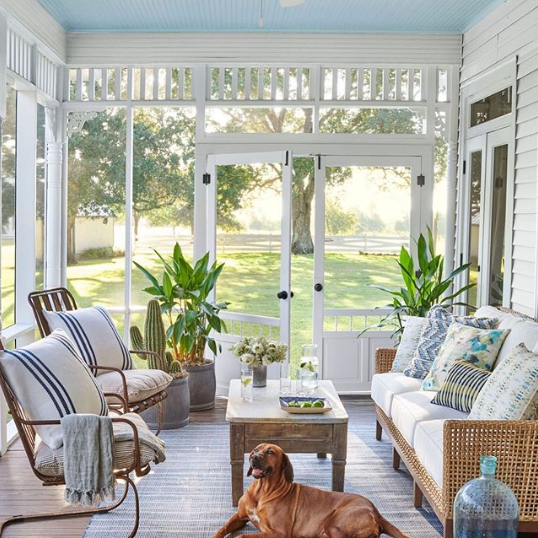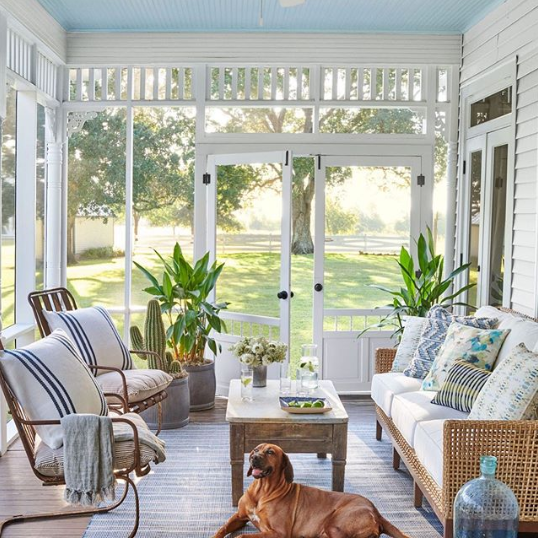 To highlight this trend, Brown Jordan named Peche (French for "Peach")– a dusty pink color, similar to rose gold– the color of the year in 2019. This color has also featured prominently in 2020 designs. Of course, peche is not the only neutral color that's trending this year. Blue, especially a bluish-gray color called chambray, is still a classic, can't-go-wrong color for pillows and cushions. Further, luxury umbrella retailer Shadowspec has named dark green as another trending color in 2020. Especially at a lake house where grass and trees abound, featuring green fabrics in your outdoor designs creates a look cohesive with nature.
Material Trend – Create Texture Variety
This year, don't be afraid to mix different materials when it comes to your outdoor furniture. Whether you're combining a concrete dining table with wicker seats or a teak sofa with an aluminum end table, the goal is to evoke an exciting, textured look. However, it's best to be cautious about which materials you choose to combine. To avoid a junky, haphazard situation, start by focusing on two elements and exploring different combinations.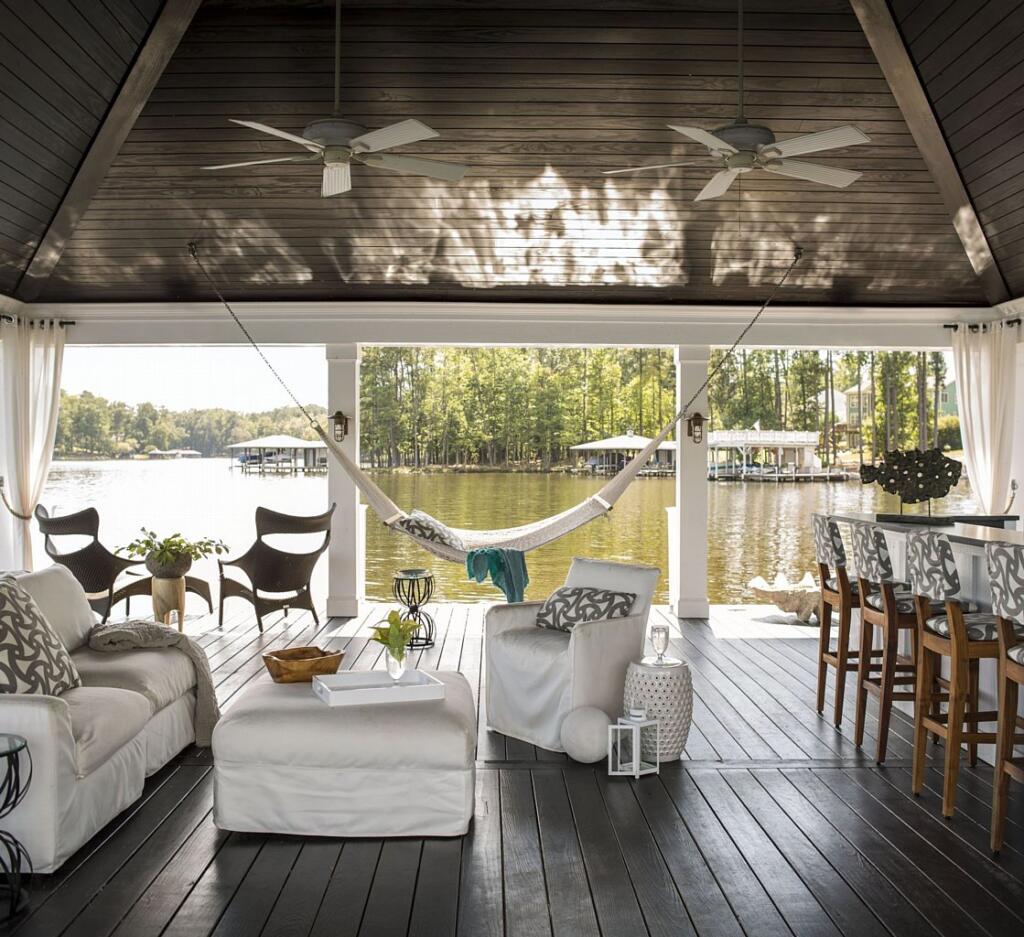 Currently, some of the most popular products in 2020 are natural materials such as wood and wicker. Lucky for lakeside dwellers, these materials fit seamlessly with the shoreline in your backyard. They also create an exciting sense of texture that already exists in nature. Another popular content to mix into your designs this year is concrete. On its own, concrete appears strictly industrial. However, when combined with contrasting materials like fabrics and wood, it takes on a more dynamic look.
Product Trend – In Keeping with Comfort
The trend of outdoor kitchens has been on the rise for the past decade, and there are no signs of this trend slowing down. As lake homeowners continue to host gatherings in their outdoor kitchens, whether it's a small family get-together or a large party of guests, furniture manufacturers have kept up by creating large dining tables to accommodate the lifestyle of entertaining. This way, every guest can have a comfortable seat at the table.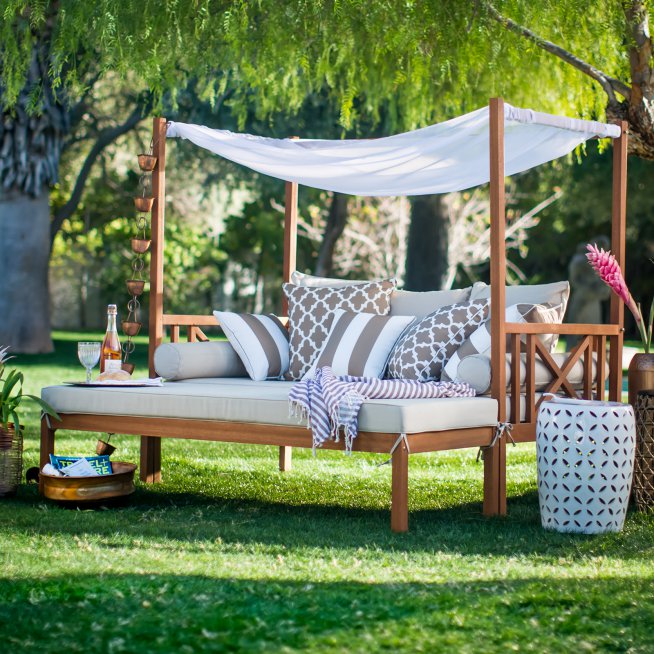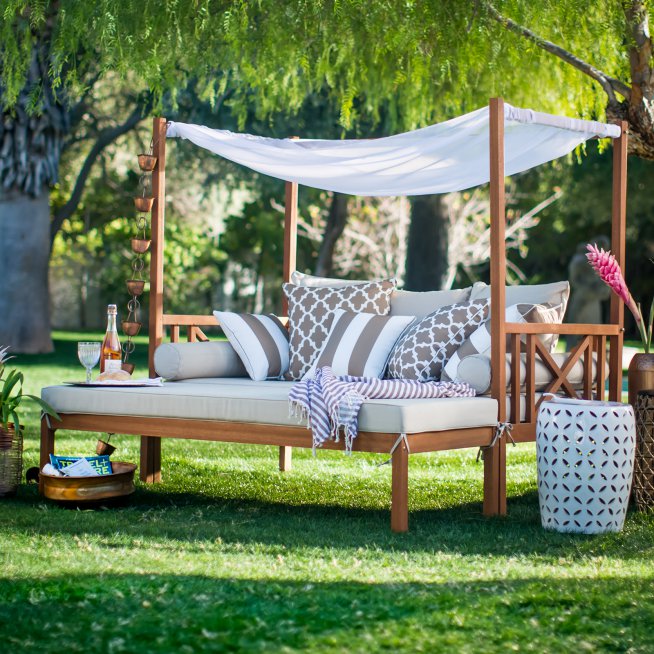 Based on this trend as well as other popular products, it's clear that comfort is the name of the game in 2020. Luxury furniture retailer Summer Classics lists barrel chairs as a new outdoor furniture trend this year. These chairs, designed with a broad, curved back rather than a traditional box frame, are made for ultimate relaxation. If you're looking to dive right into the comfort theme of 2020, consider investing in a daybed. Hayneedle, an online home furnishings retailer, names daybeds as one of the top outdoor furniture trends this year. What better place to relax and take a nap than on a plush daybed surrounded by your beautiful lakefront property?
Design Trend – Stick to Simple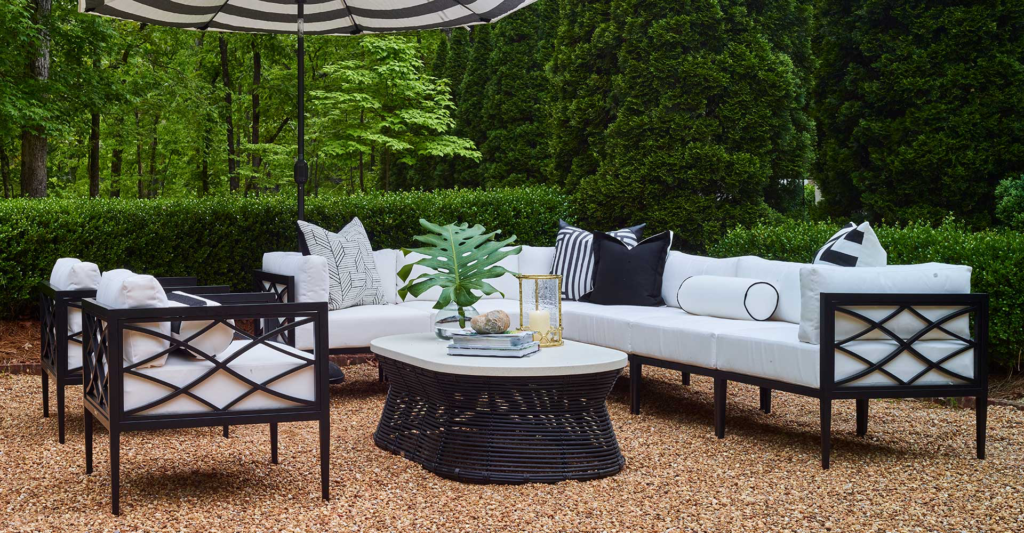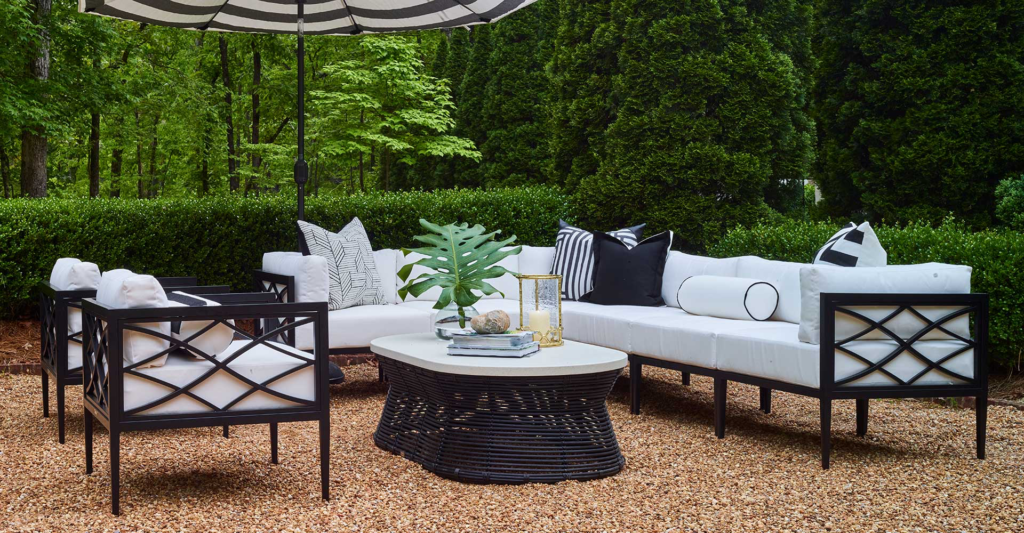 Quoted in the luxury lifestyle magazine Arizona Foothills, the chief brand curator for Brown Jordan notes that furniture with modern, clean lines is the trend for 2020. This simplistic style has been recently popular in interior decorating, and now, it's making its way to outdoor designs as well. High-end retailer Summer Classics agrees, and they have incorporated this style into their 2020 collections Elegante and Claro. Both of these lines showcase unembellished elegance, underscoring the beauty of a simple, linear design. Additionally, Shadowspec names minimalism as a big outdoor furniture trend in 2020.  Especially in the outdoor space of a lake house, choosing a minimalistic style will beautifully blend with your natural surroundings rather than overshadowing them.
We hope these 2020 outdoor furniture trends give you inspiration for your lake house designs. The use of stylish color and content will add fashion to your home and your life!