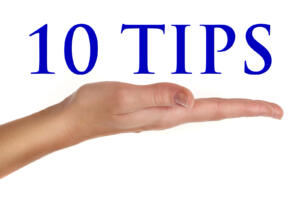 The bathroom is the one room that is rarely thought about unless there is a leak or the toilet is not flushing.
For the most part, when thinking about remodeling or organizing our home, the bathroom often gets left out.
Many times, there is minimal storage space, counter space, or any space at all except for where you take care of business.
While bathrooms are not typically a drawing point or gathering area for guests or those living in the home, it is still a part of the home and should be utilized to its full capacity.
Here are some bathroom organization tips to help you get started:
Adding wire mesh baskets to the wall instantly creates an area where you can keep your hair accessories such as curling irons, flat irons and blow dryers. The baskets keep your counter space from getting cluttered and opens room in your drawers.
Fix some cabinet storage bins onto the doors themselves, on the inside, of course. Adding those extra levels of storage space allows us to place the smaller items like hair spray, soap, nail polishes, makeup, etc., in smaller bins which fit into the actual storage bins themselves.
Use a pocket organizer on the back of the door, or even in the cabinets themselves. This is a very inexpensive way to add extra storage and utilizes your space immensely.
Invest in an under-the-sink shelf organizer. This is a wonderful way to add temporary shelves under your sink. Items that can be stored here include towels, shampoo/conditioner, soaps, personal items like razors and shaving cream.
Try drawer dividers. Adding dividers into your drawers helps to keep everything neat and organized such as toothpastes and tooth brushes, and makeup.
Wall cubbies help to make the bathroom look really cute as well as creates extra storage space for your items.
Another way to spruce up your bathroom organizing is to buy some color coded towel hooks. Putting these on your wall or behind the door helps to keep your bathroom organized by helping you to remember which towel belongs to whom.
See about getting a novelty toilet paper holder. These stands often fit easily into corners, and help maximize that small space while keeping your bathroom looking cute.
Designate a towel cabinet. We all have so many towels and wash clothes, having a separated cabinet dedicated just for the linens would be the perfect way to keep your bathroom organized and keeps it looking sleek.
Personalize your bathroom shelves. If you have children, or multiple people use the same bathroom, having your own individual shelves may make for the most of your under-utilized space.
There are so many ways to keep your bathroom looking both beautiful and organized at the same time. Utilizing these simple, affordable tips, will help you make the most out of this under-acknowledged space.