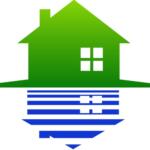 Website Lake Homes Realty
The Nation's Largest Lake-Focused Real Estate Company
Real Estate Contract and Compliance Specialist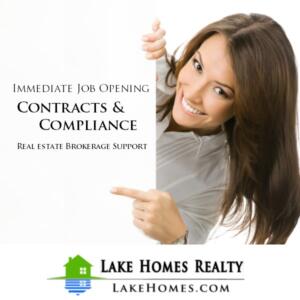 Lake Homes Realty has an immediate opening for an experienced full-time Real Estate Contract and Compliance Specialist.
This person needs to be a strong analytic that solves problems through facts and data.
We are going places and we have to focus, focus, focus on results. It's HUGE.
If you're accurate, precise, and detailed this may be a great opportunity for you. (If anyone has ever told you that you're dis-organized, average with follow-thru, or hates structure, this job is going to be painful.)
Our ideal candidates will be:
A licensed real estate broker in at least one state.
Analytical in Problem Solving (this is a MUST)
Focused, Focused, Focused!
Accurate, Precise, Structured, and Detailed
Radiating a Great Attitude ('cause we are going places, and negative won't get us there!)
Able to communicate in a straightforward (but always polite and kind) manner, and comfortable with others who communicate this way.
Ready to interact and cooperate with other seasoned real estate experts.
Comfortable with predictability and repetition where tasks are done in an orderly and systematic way.
Patient with other people, yet efficient with tasks.
Punctual and regular in attendance.
Bringing a daily positive attitude ('cause we are going places and that helps get us there!
A Life-Long Learner (we even have weekly office meetings to "think about thinking")
Position's primary duties include:
Internal real estate compliance review of real estate contracts from various states.
Research and resolve real estate compliance questions.
Research details about real estate law and regulations in various states across the country.
Prepare compliance processes to support brokerage operations in additional states.
Real estate agent/broker support.
Support various other company services.
This is not an entry-level position.  MEANINGFUL prior experience with real estate contract compliance, business computer usage, and business office processes is expected.
A real estate broker license is expected, but other very meaningful experience would be taken into consideration.
This position is at the Lake Homes Realty corporate offices at 15 Southlake Lane, Hoover, Alabama (just 1 mile from I-65 at the Valleydale Road exit).
Please Note: This is a Non-Smoking, Scent-Free, Perfume-Free work environment.
All applications are considered confidential.
About Lake Homes Realty
Lake Homes Realty is one of most innovative and fastest growing real estate companies in the country.
But we are not the typical real estate brokerage. We have our own agents across the country BUT we don't operate typical brick-and-mortar offices.
If we may be so bold, if you took Amazon and Shipt, the big-box real estate companies, plus Zillow and Realtor.com and threw them all in a blender, what pops out would be something similar to our business model.
Leading edge + Traditional.
Tech + Great People (a.k.a., "High Tech with Warm Touch")
The company is the largest lake-focused real estate brokerage in the U.S. and is expanding to new markets across the country almost daily.  We are building THE national brand for lake real estate.
Utilizing a unique combination of online, social, and local experts, our staff participate in very leading-edge processes and tasks. The company's website, LakeHomes.com, is used by millions of home buyers and sellers each year.
Inc Magazine ranked Lake Homes Realty on both the 2017 and 2018 Inc. 5000 lists of the fastest growing companies in the U.S.
The Birmingham Business Journal has named Lake Homes Realty as one of the 30 fastest growing company in Birmingham for the last four years!
We have a great team, focused on accomplishment, fun, and being personally better every day. 
We know that when each of us is better, we are all better!