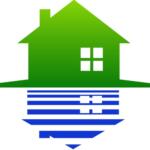 Website Lake Homes Realty
The Nation's Largest Lake-Focused Real Estate Brokerage
Director of Marketing
Lake Homes Realty is looking for the following to LEAD our marketing department:
This person needs to be a strong analytic that solves problems through facts and data. Yes, we will brainstorm but this position is requiring a self-sufficient problem solver.
We are going places and we have to focus, focus, focus on results. It's HUGE.
If you're accurate, precise, and detailed this may be a great opportunity for you. (If anyone has ever told you that you're dis-organized, average with follow-thru, hesitant to hold others quickly accountable, or hates structure, this job is going to be painful.)
The goal is for you to grow in this role, and to grow and build a team of "A" players and rockstars! You will have to LEAD (not boss) others, to establish specific expectations and hold people accountable. (If handling conflict head-on has ever been an issue for you, this particular position may not be for you. We encourage healthy, honest, and empathetic conflict.)
Our ideal candidates will be:
Analytical in Problem Solving (this is a MUST)
A Leader who can Get People Moving and is Very Comfortable Holding Others Accountable (if this causes you hesitation, this particular position may not be for you)
Results-Oriented in Mindset (because we are going places and this requires success drivers)
Focused, Focused, Focused!
Accurate, Precise, Structured, and Detailed
Experienced Hiring and Leading (not managing, but leading!) Professionals.
Radiating a Great Attitude ('cause we are going places, and negative won't get us there!)
Accomplished in Digital and Traditional Marketing.
Proven in Engaging Consumers using Niche-Focused Content Marketing and Other Digital Strategies.
Already Comfortable with Tech and Marketing being Very Intertwined, and MUST understand the Tech Side too.
A Life-Long Learner (we even have weekly office meetings to "think about thinking")
Duties
Position's primary duties include (but not limited to):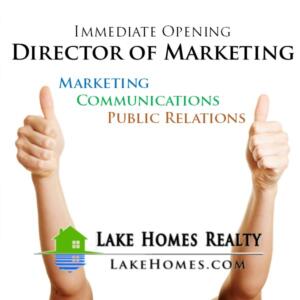 Establishing systems, team and individual goals, individual work plans, and key-performance indicators.
Creating and overseeing/implementing digital marketing, content strategies, customer journey funnels, and SEO initiatives using prior experience (this is not a learn-on-the-job position).
Designing, directing, and overseeing social media initiatives, processes, staff and, where applicable, outsourced resources.
Managing the in-house content production team (where content is articles and stories posted on the company website, as well as similar stories promoted and placed with small and national news outlets).
Designing and implementing consumer sales funnels for three distinct target audiences. This will include both digital efforts as well as coordinated direct mail and other selected traditional marketing.
Coordinating marketing efforts with in-house software development team for www.LakeHomes.com.
Working with the CEO and current marketing team to understand, absorb, and develop processes from our data, market research, institutional knowledge, and business experience.
Establishing team and individual goals, both short-term and long-term, that align with desired business outcomes.
This is not an entry-level position.
SIGNIFICANT prior experience is expected with:
Establishing result-oriented metrics for staff and processes.
Hiring and management of marketing staff and external consultants,
SEO/SEM,
Link-building,
Digital sales funnels,
Search keywords,
Drip-marketing, and
Digital reputations.
Applicants with meaningful journalism and/or real estate related experience and/or pay-per-click are given priority. However, these experiences alone will not meet the full job requirement.
The right person for this position will be given room to bring new and innovative ideas to the marketing strategy, as well as grab a seat at one of the fastest growing companies in the country.
This position is at the Lake Homes Realty corporate offices at 15 Southlake Lane, Hoover, Alabama (just 1 mile from I-65 at the Valleydale Road exit in Metro-Birmingham).
All applications are considered confidential.
About Lake Homes Realty
Lake Homes Realty is one of most innovative and fastest growing real estate companies in the country.
But we are not the typical real estate brokerage. We have our own agents across the country BUT we don't operate typical brick-and-mortar offices.
If we may be so bold, if you took Amazon and Shipt, the big-box real estate companies, plus Zillow and Realtor.com and threw them all in a blender, what pops out would be something similar to our business model.
Leading edge + Traditional.
Tech + Great People (a.k.a., "High Tech with Warm Touch")
The company is the largest lake-focused real estate brokerage in the U.S. and is expanding to new markets across the country almost daily. We are building THE national brand for lake real estate.
Utilizing a unique combination of online, social, and local experts, our staff participate in very leading-edge processes and tasks. The company's website, LakeHomes.com, is used by millions of home buyers and sellers each year.
Inc Magazine ranked Lake Homes Realty on both the 2017 and 2018 Inc. 5000 lists of the fastest growing companies in the U.S.
The Birmingham Business Journal has named Lake Homes Realty as one of the 30 fastest growing company in Birmingham for the last four years!