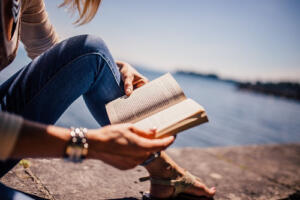 School's out, the lake is buzzing with activity, and the smell of barbecue is in the air–it's summertime.
There are things to do and people to see. However, every once in a while, you'll find real value in what the Italians call "la dolce far niente," or the sweetness of doing nothing.
Grab a cold drink and put your phone on "Do Not Disturb."
We've found six of the best books for you to get lost in this summer.
This warmhearted, witty novel tells the story of an eccentric single mom raising her daughter in the lap of privilege in the New York City of the 1980s and 90s.
Native to the Upper East Side of Manhattan, Laura was born into all the benefits and comfort that old money could afford. After a reckless weekend with a relative stranger, Laura finds out she's pregnant. This is when we're introduced to Emma.
Laura's easy-going, liberal nature doesn't stop her from raising Emma in the same gold-plated, blue-blooded world she came to know as a child. Unlike her mother, however, Emma begins to question it all–the costly private schools, designer clothes and homes in the Hamptons.
In a flurry of society friends, quirky characters and mini-adventures, Laura and Emma tells the story of a woman on a mission to find herself, her daughter's place in it all, and the ever shifting environment of the Upper East Side.
Vivacious and entertaining, this book matches perfectly with warm weather and sunscreen.
This poetic journey of self-discovery will keep you on the edge of your seat from start to finish.
The protagonist, Astrid, narrates every dark, tantalizing detail of her early life with a rare beauty and strength not often seen in characters so young.
Harrowing circumstances thrust 12-year-old Astrid into the foster care system after her mother—the cold-hearted, distant and fascinating Ingrid—goes to prison for murder.
For the next eight years, Astrid will endure manic, riveting and life-changing episodes in each home she visits. Fitch expertly draws readers in as they witness Astrid's rocky growth from an innocent, observant little girl to an artistic, brazen young woman.
This book paints a captivating picture: the dynamics of the ever-complicated mother-daughter relationship; the pitfalls of the foster care system; and the ways in which loneliness can sometimes lead us down the road less traveled.
Elegant and bold, White Oleander is an unforgettable rabbit hole of an adventure that's sure to make the hours fly by all summer long.
Journalist Madeleine Blais uses her award-winning storytelling skills in this wistful, decades-long nonfiction.
To the New Owners chronicles the time her family spent at their humble vacation home on Martha's Vineyard from the 1970s to 2014, when they chose to sell the house.
Years of summers with no air conditioning, endless hours at the beach and priceless moments with dear friends — all of these experiences grew to be associated with the quirky cottage.
The author's loving account of her time spent on the island creates vivid imagery that almost feels like the reader's own memory:
"The world was in layers—the blue gray of the pond, the beige lip of sand in the distance, the different blue of the ocean, and yet another blue for the sky—an orgy of horizons, interrupted now and then by white birds, white foam, and white clouds."
With a good mix of reminiscence and admiration, Blais gently educates the new owners of this special place on the value of the well-loved "shack."
To the New Owners is a memoir about that symbolic home on Tisbury Great Pond, to the Vineyard itself and to the memories made there over time.
This one-of-a-kind novel has all the charming nostalgia necessary for a light-hearted summer read.
The Distance Home takes place in the desolate, rolling plains of South Dakota in the years following World War II. It's a story that embodies all the harsh paradoxes of life: acceptance and rejection, success and failure, family and separation.
Two siblings, René and Leon, share the same home and the same passion, but meet strikingly different fates in life.
René is naturally bold, effortlessly successful and basks in the adoration of her father. She exists in stark contrast to Leon, a tender soul who can never seem to gain his father's approval.
Consequently, the two siblings, once close in childhood, grow apart as they grow older. Over the years, they embark on lifelong quests for love, self-discovery and understanding.
Saunders tells the story of a broken family who struggles to connect the dots throughout life. She somehow invokes enough empathy for the reader to feel compassion toward every character involved.
After a long day on the move, a peaceful summer night isn't complete without an enchanting coming-of-age novel to keep you captivated. The Distance Home is a wonderful tale of the complexities of losing, and then finding, yourself over and over again.
An imaginative romantic comedy is just what the doctor ordered for a perfect lakeside read.
Haig tells the story of a seemingly middle-aged man who holds a dangerous secret. Due to a rare condition, Tom Hazard has been alive for centuries.
After living hundreds of extraordinary years through some of history's most famous corridors, Hazard craves nothing more than a normal existence.
However, while living yet another life in his former home of London, he makes a dire mistake. Tom falls in love.
As a result, he attracts the attention of the Albatross Society.
This secretive group protects people like Tom and specifically prohibits love under all circumstances. Painful memories of past lives and the unpredictable behavior of the Society throw the protagonist into a series of misadventures.
How to Stop Time shows how, sometimes, it can take a few lifetimes to really learn how to live.
A supermodel's suicide, a downtrodden private investigator and a cohort of sparkling multimillionaires.
The Cuckoo's Calling, written by J.K. Rowling under her pseudonym Robert Galbraith, has all the fixings of a juicy summertime mystery novel.
Detective Cormoran Strike is going through a bit of a rough patch in life.
The bills are past due and his clientele is dwindling. He's recently ended things with his long-time girlfriend and is now forced to live out of his office. By a sudden stroke of fate, a case for the ages lands in his lap, spurring his life into action.
After a swift investigation, authorities rule legendary supermodel Cuckoo's death a suicide after she takes a fatal plunge from a high-rise building.
Through desperation and determination, Detective Strike sets out to prove that the lethal fall was anything but self-inflicted.
These are the best books to curl up with on those lazy summer days. This list features a variety of page-turners that'll linger in your memory long after you're done reading.