The tenth annual Red Bull Cliff Diving World Series is jumping off June 2 at Texas' Possum Kingdom Lake.
The first of seven international stops on the World Series circuit, Possum Kingdom is a series Hall of Famer, making its fifth appearance in the competition since 2014.
Following only Azores, Portugal; Polignano a Mare, Italy; and La Rochelle, France, Possum Kingdom has hosted the fourth most Cliff Diving Series competitions in the event's 31-location footprint.
The lake's prominent rock formation, which features two cliffs that reach heights nearly three times that of Olympic diving platforms, "Hell's Gate" made its first Red Bull Cliff Diving World Series appearance four years ago.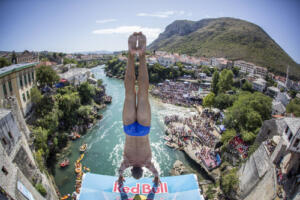 The Competitors
The World Series runs from June to September and features competitions across both men's and women's teams.
This year's men's diving team consists of 10 permanent athletes who represent six nationalities.
Per location, the competition will also see dives from up to four "wild card" divers from across the world.
These athletes have either not scored high enough in the previous competitions to become permanent team members or are new participants in the Series.
The women's team represents four nationalities this year across six permanent members and two "wild card" divers.
The Possum Kingdom Series starter will bring the women full circle as Hell's Gate saw the team's inaugural dives in 2014.
Eleven judges rotate throughout the competition; five are selected for each location's competition.
The 2018 panel includes six former Olympians and a former Olympic diving judge.
The Competition
This year, participants will compete in events in Spain, Portugal, Switzerland, Denmark, Bosnia and Herzegovina and Italy.
Each stop will consist of two days of dives, during which both teams will compete in four rounds of competition.
Athletes are required to make two dives of predetermined levels of difficulty, and one dive of their choosing; however, all maneuvers must be selected from five dive groups including inward, back, reverse, handstand and front take offs.
In a final round at each stop, the eight highest overall scoring members from each team will dive one last time to determine the location's winner.
The competition will conclude in Polignano a Mare, Italy on September 23, where the 2018 Red Bull Cliff Diving World Series Champions will be crowned.
Champions will be named based on the highest cumulative scores after six competitions.
For full details and dates, visit http://cliffdiving.redbull.com.