Bruce Jones has been named the 2018 Agent of the Year and Splash Award honoree at Lake Homes Realty's sixth annual Agent Summit, held October 16-19, 2018 in Hoover, Alabama.
"It's such an honor to be recognized by our company," Jones said. "I am especially proud to win this year's Splash Award because it honors my relationship with the community and the caliber of service I deliver, not just how many properties I sold."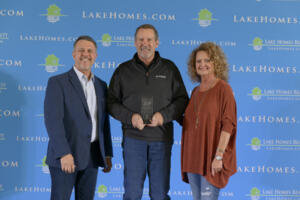 Recognized as the company's best overall performing agent for the year, Jones also received a "Premier Agent" designation.
Splash Award Criteria
To determine the 2018 Agent of the Year and Splash Award recipient, Lake Homes Realty agents were ranked, relative to each other, for performance in six key areas over a 12-month evaluation period.
These key areas included:
Average number of days from close-to-completed office files
Overall effective commission percentage per side
Total sides closed
Total transaction volume closed in dollar amount
Percent increase of year-over-year transaction volume in dollar amount
Number of listings in MLSs on September 1, 2018
To be eligible for Splash Award consideration, agents were required to have been licensed with Lake Homes Realty for at least 24 months by August 31, 2018, and completed 12 transactions or more between September 1, 2017 and August 31, 2018.
"Agents' transaction volume also had to be $3.5 million or greater in order to be eligible," Lake Homes Realty CEO Glenn S. Phillips explained. "This value is based on a property's sale price, independent from the number of sides represented. Transaction volume also excludes referral transactions."
Award Scoring
Those agents with the best performance in each of the above areas received a single point, with the next best receiving two points, the third best three points and so forth.
Each area's points were then totaled to determine the agent with the lowest combined score, who was then named the Splash Award winner and Lake Homes Realty Agent of the Year.
Should more than one agent have had the lowest score, the agent with the highest total transaction volume in the 12-month evaluation period would have won the award.
"Our agents are the very best at what they do. They are the special forces of lake real estate, and each year their expertise and talents continue to impress," Phillips said. "This year's Summit was the best yet, and it's because of the work our agents put in all year long."
Client Advocacy-Driven Success
This year's Agent of the Year and Splash award winner is no stranger to hard work. Bruce Jones has been selling real estate in Texas' Austin area since 2005.
"In a industry as competitive as real estate, being willing to go above and beyond for your clients is what can set an agent apart," Jones said. "That's one of the biggest components of my service: being readily available to my buyers and sellers whenever they need me to be."
Jones continued by adding most of his business revolves around former client referrals and repeat clients. Without the solid relationships he's built over the last decade, Jones contends he might not have won this year's Splash Award.
Not only an active member of his community, serving on the local city council, Jones is also a member of the National Association of Realtors, the Texas Association of Realtors and the Houston, Austin and Highland Lakes Association of Realtors.
"Over the next year, I'll continue to grow my brand as a client-first lake expert by staying up-to-date with the latest industry tech, and by utilizing the tools provided to me through LakeHomes.com," he said. "But above all else, I will continue providing my clients with the most convenient, effortless and remarkable service I'm able to provide."