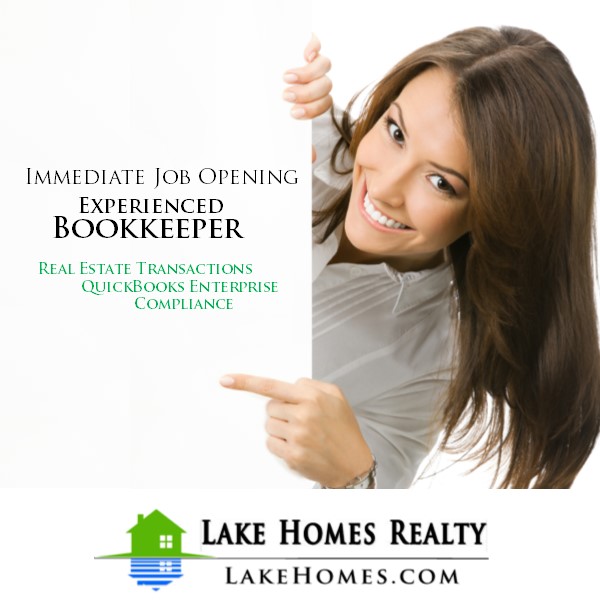 Lake Homes Realty has an immediate opening for an experienced, full-time Bookkeeper.
This position requires a self-directed, up-tempo individual with a natural focus on detailed accuracy and the ability to cross-check work. Our firm is regulated in each state we operate, and compliance is of utmost importance.
Ideal candidates will be comfortable with technology, including check scanning, commercial online banking transactions, and financial security measures.
They will also be analytical in nature, comfortable following detailed documented processes, and consider themselves methodical, efficient, and productive.
This is not an entry-level position. Prior experience with chart-of-accounts, audit completion, multi-account bank reconciliations, QuickBooks, and business office processes is expected.
Position's primary duties include (but not limited to):
Real estate commission management.
Detailed General Journal entries to support real estate transaction details.
Multi-account bank reconciliations.
Regular processing of bills, invoices, and payments.
Interaction with in-house multi-state brokerage software.
Coordinate activities with other in-house bookkeepers and the brokerage operations team.
Support various other company services.
Applicants with proper prior experience, as noted above, are greatly appreciated! Unfortunately, we want to to mention that applicants with little-to-no detailed bookkeeping experience will not be considered. We really do appreciate those eager to learn, but this position is simply not suited for entry-level staff.  This is not just for our benefit, but for your benefit as well.
Applicants with meaningful real estate back-office experience are given priority.
Please note: We have a smoke-free, scent-free, perfume-free work environment. This is very important.
APPLY NOW!
To apply in confidence, please complete a brief (6 to 10 minutes) assessment (ideally from a computer and not a smart-phone) and then upload your resume at:  Apply Here
---
About Lake Homes Realty
Lake Homes Realty is one of the fastest growing companies in the country, as recognized by Inc. Magazine on their 2017, 2018, and 2019 Inc. 5000 list.
The company leverages the power of its website LakeHomes.com, visited by millions of people each year, and its own local, licensed real estate brokerages and agents across 27 states (and growing).